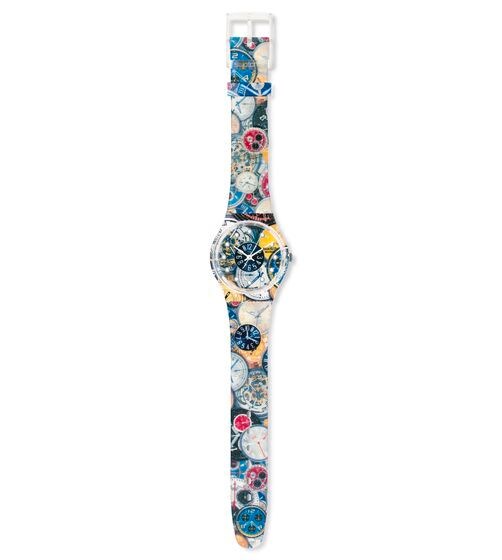 From the pulpy, comic-book images of Charmingly Beautiful (GE217) to the ironic and self-referential Timespective (GE216), Manish Arora's work for Swatch displays his inimitable exuberance, love of colour and an irresistibly playful spirit. The former captures the essence of Bollywood romance, with a dial framed by chilli-pepper red and inked with cool blues and greens. Timespective is a mixed-print mashup of images of timepieces, clocks and watches in which Arora's signature palette references light-faded magazines and pop images. His sophisticated, intelligent print unfolds into multiple layers and dimensions—like modern, post-pop time itself. Huge in All (YNG102) presents a big, riotous pattern of swirls and hearts, From Within (YUG101G) a vampish look, while Dancing Hands (SUPP101) with its stylised gestures, Giant Shimmer (YOG101G) with its brash humour and the over-the-top Over Charm (SFM110G) furnish further evidence of Manish Arora's astonishing creativity.
Buy online
You are browsing the site in the International version.
Based on your location the watch is available in the following online shop.
Stay on swatch.com
Product Details
TIMESPECTIVE
Product Details
Swatch
Case Material

Plastic

Strap Material

Leather

Movement

Quartz

Water-resistance

3 bar

Case Width

34.00 mm

Case Height

39.20 mm
Case Thickness

8.75 mm

Product Line

Originals

Product Family

Gent

Year

2009

Reference

GE216
User Manuals
User Manuals
User Manuals