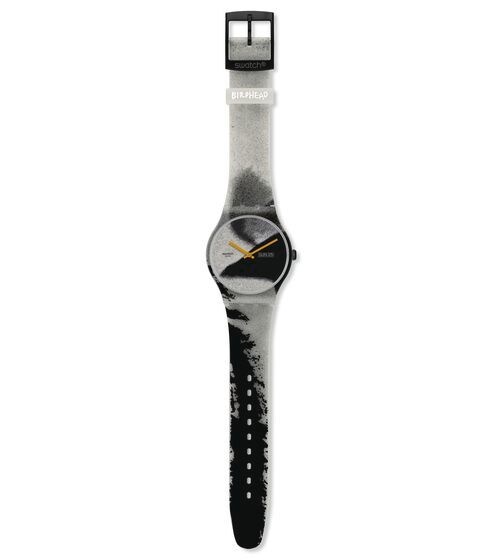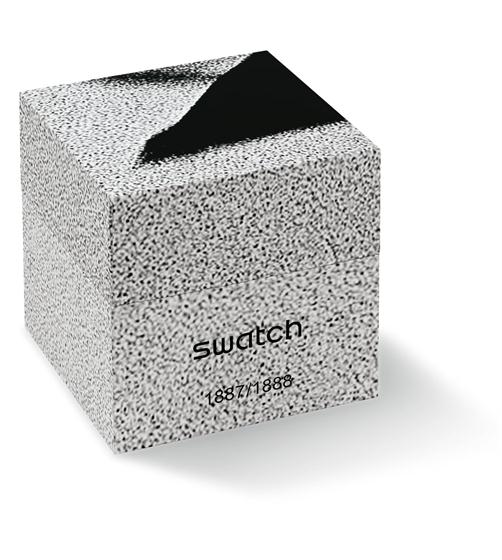 Birdhead explain their design inspirations: "Photography is Birdhead's major creative medium. Our work is based on shooting numerous photographs inspired by our daily life, which really drives us to understand 'the meaning of time' implied by photography. This understanding arises not only from the moments when we shoot the images, but also during the process of developing the negatives, enlarging the film in the darkroom, and through the process of developing the actual photographs. When we look at all our images, emerging on photo paper, that's when the feeling of time elapsing begins to become apparent. Swatch makes products which are connected to time, so it felt very natural for us to design a watch for Swatch. In our design, we focused on the meaning of 'time' as we understand it. The enlarged particles of silver salt, the use of film photography, as well as the significant focus we gave to the packaging, have all been collectively explored to create our overall design. The watch and the packaging feature an image of a flying bird which is composited by enlarged particles of silver salt. This print is taken from a photograph in our book 'Birdhead 2006, Xin Cun' and four chapter titles we used for this book, which are four Chinese characters: Spring, Summer, Autumn and Winter. The pattern on the watch's surface is part of this print, which we cut out."
Buy online
You are browsing the site in the International version.
Based on your location the watch is available in the following online shop.
Product Details
MAJESTIC BIRD
Product Details
Swatch
Case Material

Plastic

Strap Material

Silicon

Movement

Quartz

Water-resistance

3 bar

Functions

Day/Date
Product Line

Originals

Product Family

New Gent

Year

2012

Reference

SUOZ707S
User Manuals
User Manuals
User Manuals