TIME FOR SWATCH TO MAKE MORE BOLD MOVES
Biel, July 2023
Introducing the new BIG BOLD IRONY, the first stainless steel BIG BOLD with an urban twist
Created for bold explorers and those proud to be different, BIG BOLD embodies an attitude, a mind-set, and a way of life that is irreverent, confident, and entirely unexpected.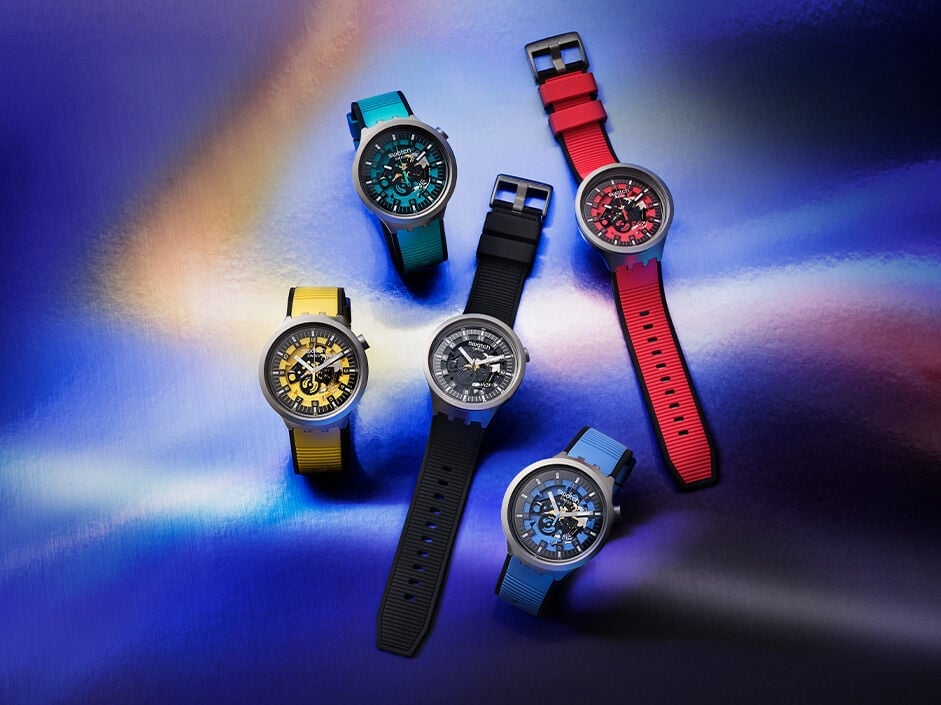 This year marks the start of a bright new BIG BOLD chapter with two firsts: the first stainless steel BIG BOLD and the first time Swatch combines BIOCERAMIC with stainless steel!
Provocative and playful, Swatch loves to keep things fresh, relevant and challenge the norm. First launched in 2019, BIG BOLD is the epitome of the watch for urban streetwear and made a statement thanks to the oversized Ø47mm watch case. Since then, BIG BOLD has welcomed bright new styles and colorways, and featured BIOCERAMIC elements.
While stainless steel watches tend to result in understated designs, BIG BOLD IRONY is anything but. These timepieces are bold, confident, and daring talking points for the wrist.
The first five watches make a confident statement with a post-modern mash-up of contrasting colors and materials. For the first time, a BIOCERAMIC core comes in combination with a stainless steel case, creating an amazing, angular, multi-level and high-tech look. On top, standout urban details do all the talking. The BIOCERAMIC plate, skeleton dial, and bi-compressed structured strap come in black (DARK IRONY), azure (AZURE BLUE DAZE), red (RED JUICY), turquoise (MINT TRIM), and yellow (BOL-DEN YELLOW). The sandblasted stainless steel case and crown look robust but weigh just 108 grams. For extra pop, the hands and index markers glow in the dark, and just like all BIG BOLD watches, the crown is positioned at 2 o'clock.
These BIG BOLD IRONY watches feature rich and metallic tones thanks to the high-profile sun-brushed dials, in five eye-popping shades that cannot go unnoticed: turquoise (AQUA SHIMMER), dark green (FOREST FACE), navy blue (INDIGO HOUR), amber (AMBER SHEEN), and burgundy (SCARLET SHIMMER). The sandblasted finishing on the case, crown and bracelet is a new treatment developed for Swatch and provides a rich, attention-getting, new matt appearance.
ABOUT SWATCH
Positive provocation and joie de vivre made in Switzerland: since its founding in 1983, Swatch has shaken up the watch industry. Thanks to its striking designs which always reflect the zeitgeist, Swatch is one of the leading watch manufacturers and the most sought-after brands in the world – and has always stayed true to itself. The company surprises again and again, whether it be with regularly released new models or special collections. The revolutionary way in which Swatch thinks and acts has always been evident with its early involvement in action sports, such as BMX, longboarding and surfing. The Swatch Art Peace Hotel in Shanghai embodies the brand's love of art and brings together artists from around the world.
Link to material: http://swat.ch/BIG_BOLD_IRONY