ALL IS SWATCH, ALL IS BRIGHT
ALL IS SWATCH, ALL IS BRIGHT
BIEL, NOVEMBER 2022

'TIS THE SEASON TO BE JOLLY AND DECK THE WRISTS WITH PLENTY OF SPARKLE.
Swatch goes big for the holidays; it's a tradition. This is the time of year when joy, fun and festivities are dialled up to the max. And, that's exactly what Swatch has done with this year's Holiday Collection that celebrates the season in the only way Swatch knows how: with playfulness, color, and irreverence!
Download photo material
This year, Santa isn't coming to town, on GOLDEN MERRY he's heading to a Swiss chalet complete with an alphorn to make the reindeer dance. The Holiday Special reimagines one of the most iconic Swiss Swatch models, DIE GLOCKE, and is bursting with playful details and not-so-subtle finishes from the jingle bells on the strap to the golden fringing that will be the talking point at any festive gathering.
Six more timepieces complete the line-up. All of them, all decked out with crystals and extra special finishes that capture the spirit of the Holidays, ready to bring a smile to people's faces when it's time to open gifts.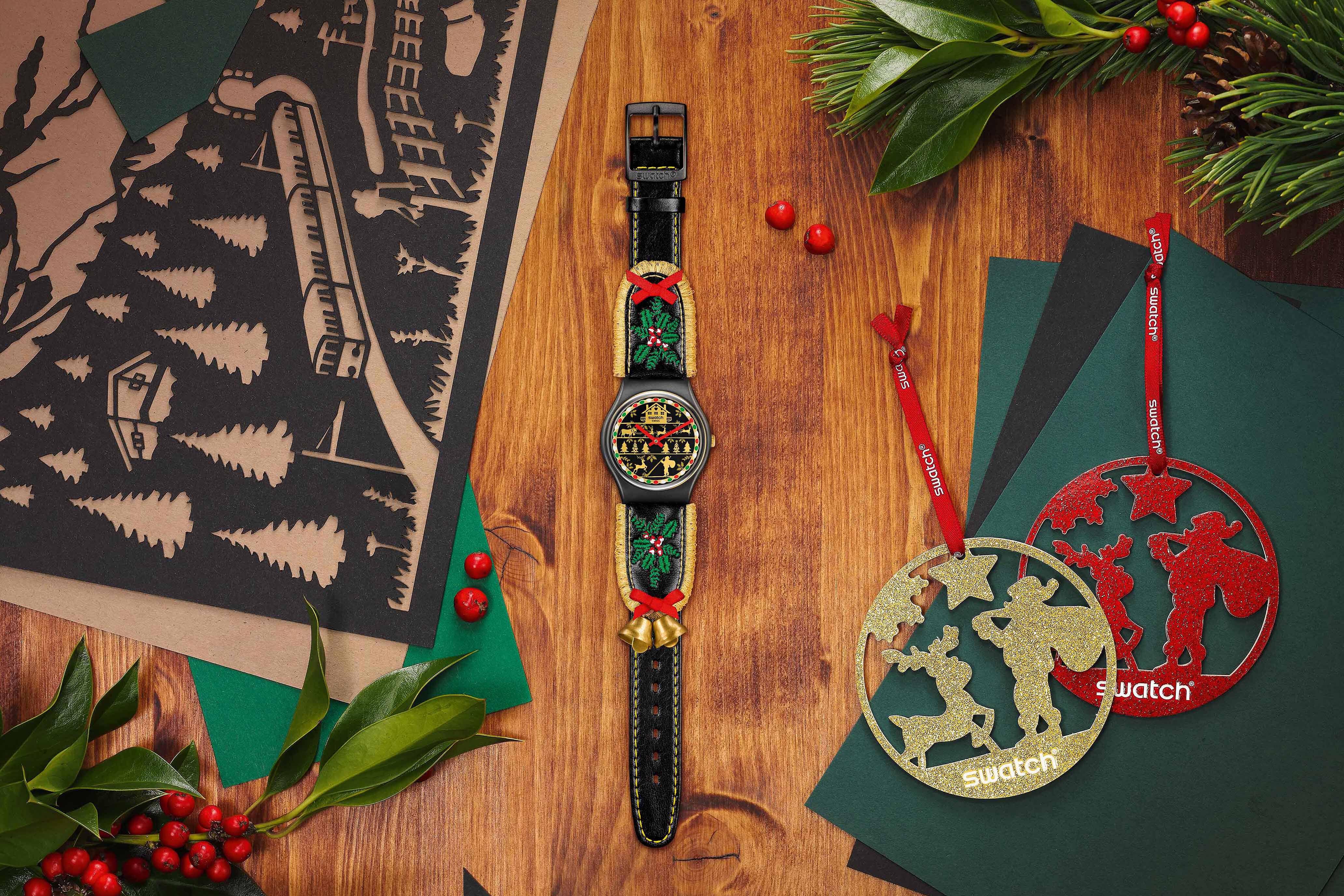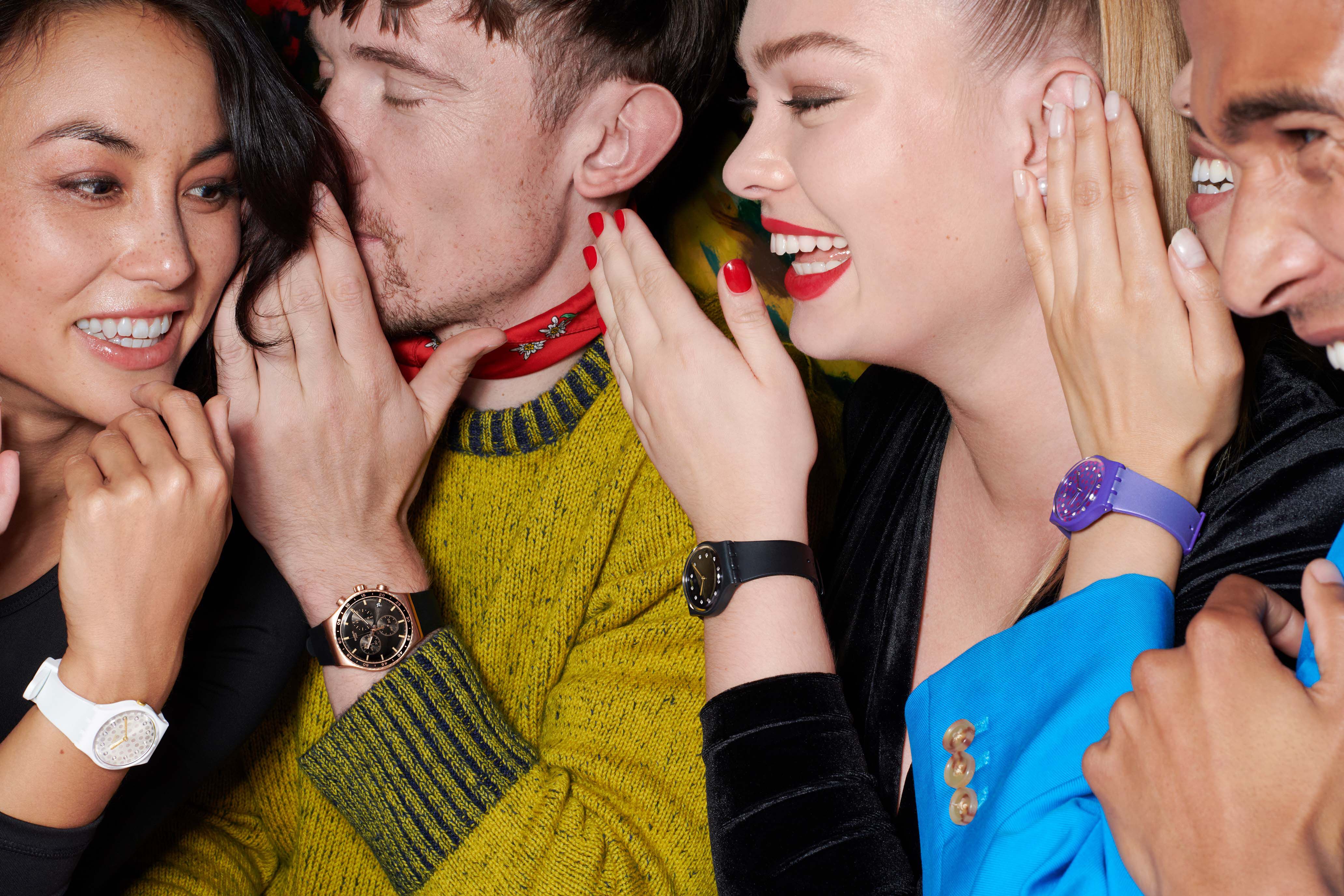 GOLDEN MERRY is not for the faint hearted; it celebrates the Swatch icon DIE GLOCKE and gives the Swiss traditional art of paper cutting a festive glow-up. This Holiday Special seamlessly blends symbols of Switzerland and holiday cheer. Embroidered holly on the watch strap meets golden trimmings with fringing and bells. Festive lights decorate the edge of the dial, which is adorned with lace-like silhouettes of mistletoe, fir trees, a Swiss chalet, and of course, Santa blowing an alphorn to make the reindeer dance. The case and glass are made from biosourced material.
No Swatch Holiday Special is complete without standout packaging, and GOLDEN MERRY delivers on this and more. The watch is presented on a gold-colored card disc that features the same papercut-inspired design as the dial. And a surprise awaits as the reverse of the packaging includes six glittery ornaments to hang on the holiday tree.

The Holiday Collection includes a Swatch first with the new combination of BIOCERAMIC material and crystals for three GENT BIOCERAMIC models. The effect? Intense sparkle with a cool and modern finish. SPARKLE NIGHT, PERFECT PLUM and SPARKLE SHINE have a striking moon-like crater appearance with crystals and mirrored holes punctuating the opaque dial.
Always game to try new things, Swatch created an eye-catching new three-dimensional shimmering effect on the SKIN IRONY 38 models by fixing crystals to the glass, not the dial. Swatch's love for playfulness and love for mixing things up can be found in the different watch straps. BRIGHT BLAZE has a crisp and minimalist white leather strap and DARK SPARK is more mysterious and tactile with a black leather strap in a velvet finish. GLEAM TEAM provides a pop of color with a blue pearlized finish on the leather strap that will reflect the festive lights beautifully.