Dear Marco Polo,
Greetings from Venice!
This is not the first time I have visited your hometown, but it is my longest stay here so far. My first 10 days under quarantine restrictions due to a global pandemic were quite an experience. However, such a period of isolation meant I had plenty of time to evaluate things and to enjoy reading the famous account of your journey around Asia, which your friend Rustichello da Pisa wrote based on the recollections you shared with him while both of you were imprisoned in Genoa. I'm amazed by your tales and to know that the book was translated into many European languages in your lifetime. While the common English title is Travels of Marco Polo, some older editions are called The Description of the World, in line with the original Franco-Venetian title Devisement du Monde. Since it was first published, many have questioned whether you really visited all those places or are just recounting other travellers' stories. Some people have even suspected that the Italian title of your book, II Milione or The Million in English, refers to the number of lies in it. However, whether true or not, your voyages have inspired many travellers and your reputation as a pioneer and legendary world explorer has remained over the past 700 years.
My journey
As an artist who often creates work based around my own travels, I would like to share with you some of my experiences. While I don't have a million stories to tell like you, what I am going to describe in this letter are my personal reflections on today's divided world along with some fragments of stories gathered from different people I have met on this trip.
Before I begin my story, I should tell you that I am living in the 21st century. To be precise, the exact year is 2021 (MMXXI). My name is Navin and I am a man from the East. My homeland is known as the Kingdom of Thailand but was called Siam on the old maps. In your time it was probably considered part of Suvarṇabhūmi, which is a name that appeared in ancient literature. Meaning Land of Gold, it was one of many places in the geographical region today known as Southeast Asia. Having read your story, it seems likely to me that you passed by this part of the world, but there is no record of you travelling to any of the different Kingdoms that ruled my home country back then. You know, the capital city of my homeland is known as the 'Venice of the East'. I should also mention that my family roots are in the Punjab region of old India. I say 'old' because the birthplace of my ancestors now belongs to a different nation called Pakistan. This new state was established 75 years ago, when the land of Greater India was divided following a civil war that caused more than 10 million people to be displaced along religious lines.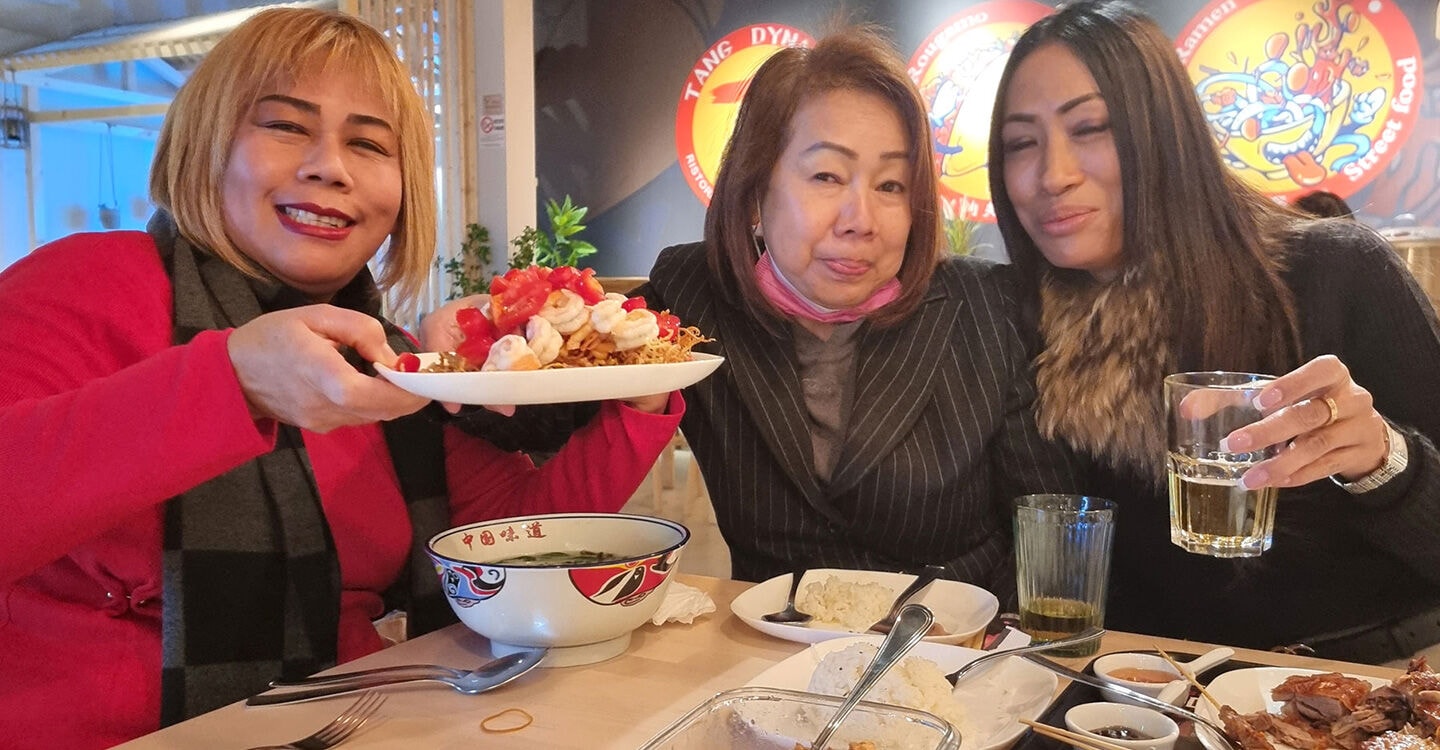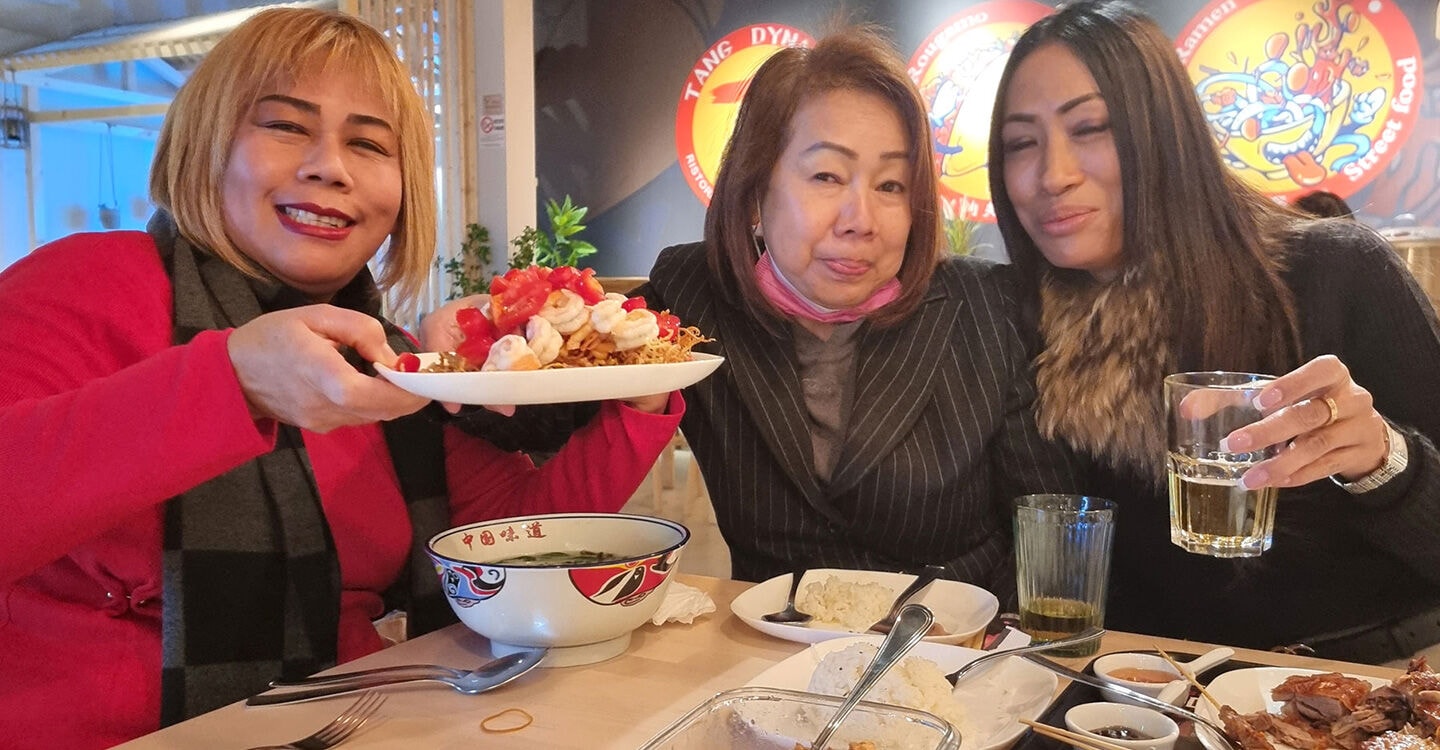 All about food experiences
On this trip, I got a chance to meet several people who have migrated to Venice, many of whom told me that war was the main reason they left their homeland. The first person I talked to is a man from Central Asia who owns several restaurants in the centre of Venice. Fifteen years ago, he came here with two friends to take part in the Venice Film Festival, which is a world-famous festival for film held every year. You may be wondering what 'film' is exactly? I would say that it is the modern equivalent of theatre in your time. At the age of 25, this man came with film mainly in mind, but when violence in his homeland worsened around that time, he decided to request asylum. Some years after beginning his new life in Venice, destiny brought him to meet other refugees from different places and join with them to open a restaurant.
Called 'Orient Experience', the restaurant has a menu based on the cuisine of their homelands in the eastern world, but every dish is influenced by the personal life and different experiences of migrants travelling to Europe. Some reached here by road while others crossed deadly seas in small fishing boats. Some journeys took a month while others took over a year. On these treacherous journeys, which all began with the hope of a better future, each person passed by many places and crossed numerous borders before finally reaching their destination. The local dishes and food they ate along the way, the ingredients they used and how people adapted their recipes have inspired the menu. Not just an experience of the Orient, they also have a branch called 'African Experience' which, as the name suggests, has a menu based on their experiences emigrating from Africa. I got a chance to try the food at both places and feel that they are true melting pots of cultures and shared experiences.
My local food experiences continued when an Italian friend introduced me to two Venetian ladies who invited me for a homemade lunch. Both of them used to be school teachers. The lady who owns the house I visited is a single mother enjoying her retirement by making art, while her friend is a writer. They cooked some Venetian dishes for me to try, beginning with squid in black ink sauce. While some cooks add cherry tomatoes, they proudly told me that the Venice version is totally black! To be honest, the colour wasn't appealing but it was certainly delicious. When it comes to pasta, Venetians tend to use Bigoli spaghetti, which originated in Veneto. It was my first time trying Bigoli, which is different from other types of pasta because the flour used is coarser. It was also the first time I had eaten cicala di mare, which is a type of lobster, I guess. Given how complicated it is to cook all this traditional cuisine, it was something special for me. They invited a few friends to join and we spent the whole afternoon eating and sharing stories. I also introduced my art to them.
At this warm and welcoming lunch, I had a chance to try the traditional cake of your hometown, known as Pandoro, or 'golden bread'. I was told it was eaten by Venetian nobles as far back as the thirteenth century and is still popular all over Italy as a Christmas cake. It was not Christmas yet, but the house owner said this lunch was special for her as well. For all of them, it was the first party of the season. Everyone enjoyed the Indian dessert I made for them to try, a serving of traditional spiced milk tea. I shared with them how eating this typical dessert reminded me of my late mother. I also told them how her life has inspired my art.
A magical shirt and my destiny
While cooking in the kitchen, I also had a chance to share the story behind the shirt I was wearing that day. It is an item of casual wear that we in the modern world call a T-shirt. I brought it back from a trip to Pakistan. It is actually a work of art given to me by a young Indian artist who happened to be there for an exhibition. There is a pattern on the front made up of the word 'Gujranwala', which was my mother's birthplace and ancestral hometown before they emigrated to Thailand. On it, a city sign is printed in both Hindi and Urdu, and accompanied by a small phrase in both languages that means 'It's here too'. I was told that Gujranwala is not just the name of a city in Pakistan, but also a suburban district in the capital of India. Looking at this and similar T-shirts this artist produced, I think he was trying to create a sense of belonging and togetherness that transcends borders.
In my life for over a decade, this T-shirt now seems part of my destiny. At first it was too small but some years later I lost weight and took it with me to Dubai, a wealthy city in the Middle East, or Arabia, built in the desert. While walking in the city, a Muslim lady pointed to it and said, 'This is my hometown!'. She looked happy but was also curious about how I came to own such a T-shirt, as her hometown is not famous, nor the sort of place you normally find on souvenirs for tourists. After telling her the story behind it, I got an idea to create a new work of art. For the rest of my stay in Dubai, I wore that T-shirt everyday while exploring the city. And just as I hoped, it helped me connect with other Gujranwala folks. Punjabis from different places and people from other South Asian communities also approached me all thanks to the Gujranwala T-shirt. Through those encounters, I learnt about their emigrant experiences and how they ended up living in such a cosmopolitan metropolis of the world today.
A few years passed, during which the magical shirt became too small for me again, but because I love it so much, I decided to reproduce it in a larger size. I also had some spares made so I could wear it more often and give T-shirts away to friends and those people who react to it.
About three years ago I set out on a trip to Rome and brought my new Gujranwala T-shirt with me. I did the same thing, wore it every day. While roaming around the capital city, I was introduced to a Pakistani journalist who has been living in Italy for over 20 years. He was happy to see me wearing the Gujranwala T-shirt and said the same thing: 'This is my hometown!'. We quickly became friendly and he introduced me to the history of Indians in this part of the world. It has been over a decade since I began researching the lives of the Indian diaspora and this new discovery led me to learn more about the South Asian communities that were once united in one large territory known as the Indian subcontinent, or 'Greater India'. I am not sure what it was called in your time but geographically, it is a peninsular region in south-central Asia. The region has also been called the Asian subcontinent, while the term South Asia is the more common usage in Europe and North America.
By the way, I forgot to report that over the past year, when it was not possible to travel abroad, I managed to lose weight again and am now able to wear the original T-shirt! I certainly regained a bit of weight enjoying eating in Venice, but hopefully this treasure will continue to lead my destiny through the future trips.
About Desi and Khaek
On that trip to Rome, I also got to know the word 'desi', which Europeans use to refer to the people, culture and products of the Indian or South Asian subcontinent, as well as their diaspora. There is a similar informal term in my homeland, 'khaek', that is used for people of Indian origin. It literally means 'guest' but is often used with derision to imply outsider. As a kid, I used to hate being called 'khaek' even though I was born a Thai citizen and can speak the language as fluently as the locals. Experiencing this growing up gave me a sense of inferiority and curiosity regarding my origins and inspired my work as an artist.
Here, on my trip in Venice, it is winter, so my Gujranwala T-shirt is worn under my jacket most of the time. But still I have encountered people who look like 'khaek' and who are not tourists. I found a number working in restaurants and hotels and some who sell souvenirs in the streets. Visiting Mestre, the mainland of Venice, I also met several shopkeepers at the fresh market and lots of them in the city centre. Roaming around, my 'khaek' face was helpful to connect with those migrants and we easily felt a sense of brotherhood! Passing through India, I guess you must have seen this type of person, right? How did you feel when you saw us for the first time?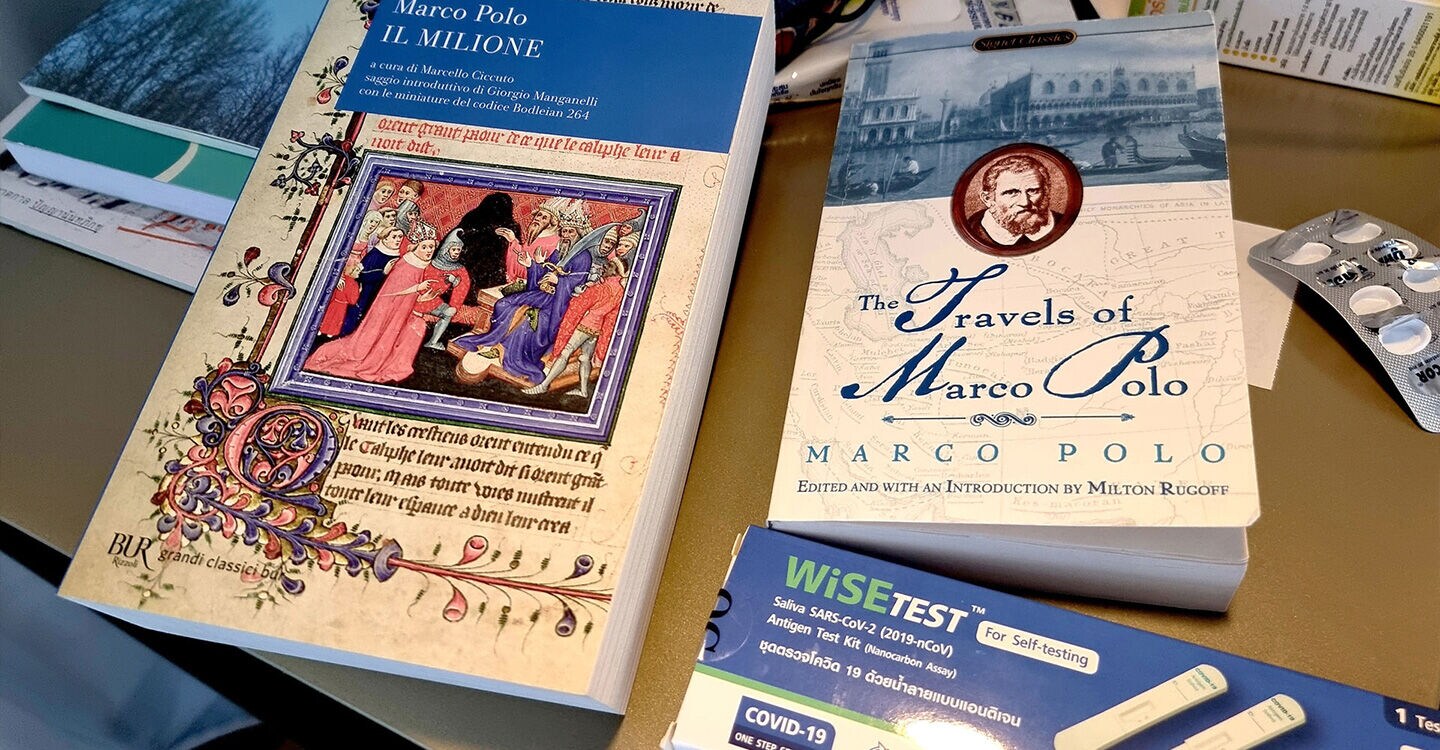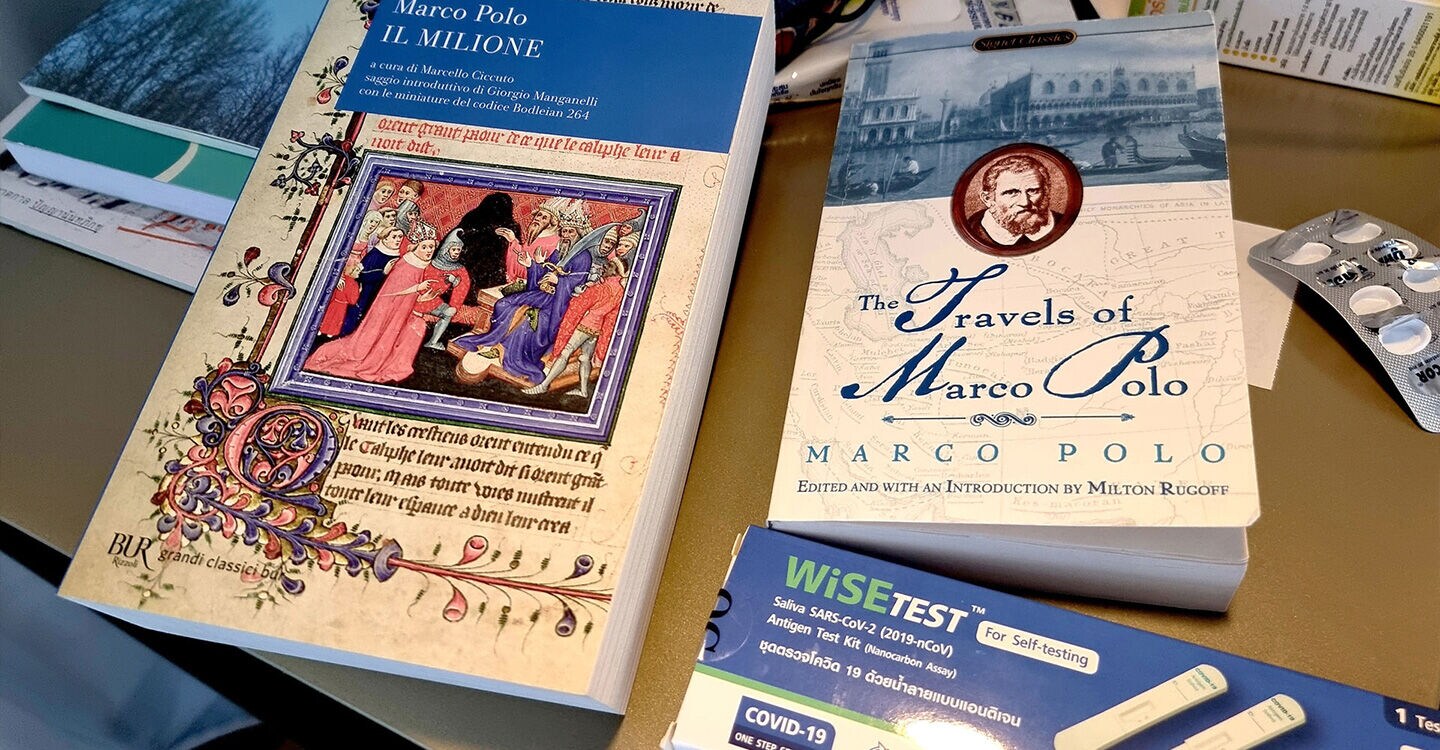 Home away from home
People from my homeland also welcome me whenever I travel. On this trip a Thai lady married to a Venetian man kindly offered to show me around Venice and even introduced me to some of her Thai friends who live here. Their welcoming party was at a Chinese restaurant where the roasted duck is so delicious! I am sure you must have tried it but perhaps that was nothing compared with the cuisine the Mongol Emperor Kublai Khan treated you to? Back in my homeland we also like eating Chinese food, but Thais always need chili, so one of them cooked spicy food from home and brought it over to our party. She also made some for the Chinese chef to try. We had fun over some drinks and the Chinese owner of the restaurant offered us a nice bottle of good wine from Veneto. A man exiled from a country that neighbours my homeland joined us. He doesn't drink but really talked a lot. This is also something to do with Asian culture, I think. Talking and gossiping are things we love. I guess it is the same in your culture, which is why you have a million stories to tell, right? Oh, I should inform you that the title of your book in the Thai version is called The Marvels of the World and Million Gossip. Hope you like it though.
More food for thought...
Speaking of food, do you know that there is still an ongoing debate about whether it was really you who imported spaghetti to Italy from China? Legend has it that these long strands made from a mixture of grounded flour and water are descended from Chinese noodles, but the Europeans claim that pasta culture was already flourishing in the Mediterranean region, among the ancient Greeks and later the Romans, centuries before you travelled east. Some have similar doubts about pizza, as some historic sources say it originated in Egyptian, while others think it is influenced by the bread people in India and Arab have eaten for centuries. I always find it amusing when I learn that a dish that I think of as part of a long-standing cultural tradition is adapted from elsewhere. It shows that we can learn about the immigrant experience through food.
...and a wine tour of course!
Wine can also teach us about migration. One late night my Italian friend took me to a small tavern by a canal. He told me that such a typical drinking bar where people can enjoy glasses of wine accompanied by Venetian snacks, or 'cichetti', is called a 'bàcaro'. This particular bàcaro serves wines from around the Adriatic Sea. I got a chance to talk with the owner, who suggested I try the red wine from Greece. Pointing at an illustration hanging on the wall, the Venetian man began telling the story behind his bàcaro and why it is named after the Adriatic. This old-looking illustration, of a boat transporting wine barrels across the sea by night, depicts how wines were smuggled from the seaside town of Pirano. Learning about this town on the Adriatic with a history dating back to the Roman Empire, I came to know that Pirano was once part of the Republic of Venice. Back then, it was governed in a semi-autonomous way by a council of local noblemen assisting the Venetian delegates.
After you passed away in 1324, there were continual battles in the Italian Peninsula. I'm sad to say that your hometown was once conquered by a Frenchman named Napoleon Bonaparte, who established French hegemony over much of continental Europe at the beginning of the 19th century. There were ongoing fights until the collapse of Napoleon's regime, when Pirano became part of the Austrian Kingdom. At the beginning of the 20th century there was another large war among European territories, the Balkan War, which then led to a worldwide battlefield that later became known as World War I. After it ended, Pirano was ceded to the Italy Kingdom together with Venice and all Istria. Some years after that, the Second World War took place and the Italians lost, leading to the creation of the Republic of Italy we know today.
To help me better understand this part of world history, the bàcaro owner also showed me an illustrated book he wrote. The book's title is Malvasia, which is a type of wine historically grown in the Mediterranean region. It is believed that the Malvasia family of grapes are of ancient origin, most likely from the island of Crete in Greece. Thanks to Venetian merchants successful at trading, Malvasia wine gained a reputation among wine lovers throughout the continent. Many bàcaros in Venice, where wines from this part of the world were served, were even known as 'malvasie'. But when Venice fell under Italian rule, such places disappeared following rising taxes on imported wines, even though there were still smugglers who brought wines across the border. That's why he wanted to open a bàcaro where people can drink wines from the Adriatic Sea region. For him, he explained, the Adriatic is a bridge that connects different cultures and people in the Italian Peninsula.
My wine discovery and history class continued on Venice's cemetery island, where I met with the two retired teachers again. They are members of an association called 'Lagoon in a Glass', which is a name that obviously has something to do with Venetian life and wine culture. I was introduced to some of their friends who are key members of the group, which was formed about 15 years ago by a late Venetian teacher who discovered an historic winery in an abandoned church on this island. They explained the history to me and mentioned that during your time this place was a small monastery called San Cristoforo. Under French occupation it was decreed that burial on the main Venetian islands was unsanitary, so this fishermen's island was selected to be a cemetery and later became known as San Michele.
The association's director gave me a tour around the abandoned church and explained how wine was made in the old days. He also showed me different types of vessels and pointed to a terracotta jar that is a type of earthenware called 'qvevri'. These are used in what is believed to be the oldest method for fermenting wine, which originated in Georgia, a country at the interarticle of Eastern Europe and Western Asia. Around the same time, wine making was already happening in what is now China, where jars from Jiahu dating to around 7000 BC were discovered. But as you know, wine in the eastern world was not made from grapes. By indicating specific places and describing their customs, you gave us a lot of precious information about drinks in the Orient. On your long journeys you discovered everything from liquors made from fermenting wheat and rice to 'goblets full of wine or milk' on the table of the Great Khan, as well as wine made from dates, spices, fruits and other foodstuffs. Over the thousands of years of human history, cultures all over the world have fermented their own alcoholic drinks. While some people enjoy travelling to see the wonders of the world, for me discovering tasty wines from around the globe is always an enjoyable bonus. By the way, coming from a land where drinking alcohol is considered a sin, I was amazed to learn that liquor was made by monks in your time, and still is today!
Mapping the world... and heavens on earth!
It wasn't only winemaking history and wine tasting I enjoyed on the cemetery island. I also discovered a fascinating world map known as Fra Mauro, which was named after an Italian cartographer who spent his life in the monkhood back when there was still a church on this island. In the monastery's records his main job is recorded as monastery rent collector, but his passion back when he used to be a merchant was travelling. Although he was no longer free to travel as a monk, he would frequently consult with merchants in the city upon their return from voyages overseas. That inspired him to create a world map that took several years to complete. Realised around 120 years after your departure from this world, the Fra Mauro map is considered the greatest memorial of medieval cartography. At that time, it was the most detailed and accurate representation of the world yet produced. I believe he must have referred to your account, as it includes all your place names in Asia, but all were upside down, oriented with the south at the top. His world map also contained hundreds of detailed illustrations and roughly 3,000 descriptive texts reflecting the geographic knowledge he had gleaned from the sailors who spoke to him.
I find it curious that this version of the world map also includes an illustration of heaven. While I was told that symbols of heaven were often integrated in maps in those days, in accordance with religious beliefs, this was the first time heaven appeared placed outside of the world. Considering what he did, I wonder if this monk thought much about the concept of heaven on earth. People in my homeland tend to say that home is their idea of heaven and that being surrounded with family is their eternal paradise, which could be anywhere. As you are such an iconic world traveller, where do you think heaven on earth is?
Incidentally, I want to share with you a funny definition of heaven from the modern world. Drinking good wines in Venice made me recall a small sign that used to be in my kitchen back home. I later came to know that it is a toast the Irish people often say when drinking. Coined by an influential Irish playwright, it goes: 'When we drink, we get drunk. When we get drunk, we fall asleep. When we are asleep, we commit no sin. When we commit no sin, we go to heaven. So…let's all get drunk and go to heaven!'
Yes, there are heavens on earth to discover and we should enjoy every moment of them, shouldn't we?
Discoveries... and your legacy
You were not the first European to travel to Asia or the Orient. But certainly, your famous expedition, which took almost 25 years began in 1271, helped create a western fascination with the East. It also put Central Asia, India and China on the western map and encouraged further exploration of this planet. As described in one of your biographical records, you never saw yourself as an explorer, but preferred the term 'wayfarer'. However, your do-or-die approach to travel inspired a whole generation of globetrotters. Among your acolytes was a young countrymate from Genoa who carried a well-thumbed copy of your book on his voyages. Not realising that the Mongol Empire had already fallen by the time of his planned journey to the east, he even wanted to follow in your footsteps by making contact with Kublai Kahn's successor. While he formulated a plan to seek a western sea passage to the East Indies in the hope of profiting from the lucrative spice trade, fate led him instead to accidentally re-discover the 'New World', namely the Americas.
Word of the voyages of this young explorer named Christopher Columbus soon spread throughout Europe and led to what has been called the Age of Exploration, during which European ships traveled around the world searching for new trading routes and partners to support the growth of capitalism in Europe. In the process, Europeans encountered peoples and mapped lands previously unknown to them. During that period from the early 15th century to the early 17th century, the world was rooted in new technologies and ideas stemming from the Renaissance, marking the transition from the Middle Ages to Modernity.
As you were the person who first described to western civilisation how paper money was used in the world, you might be interested to hear that we are now entering the age of the cashless society. Anyway, you should be proud that your still-familiar image was once printed on a banknote of your nation. But while your name means million, I was sorry to discover you only appeared on the 1,000 lire note even though the highest denomination of the banknote series was 500,000 lire. Well, that Italian currency is no longer used but your legacy lives on! Along with a number of commemorative coins with which the governments of both Italy and China have paid homage to you, your famous portrait and illustrations depicting your legendary journey have also appeared on a mock-up of a new generation of money called 'housenote', which was proposed by the Republic of Kazakhstan, a transcontinental country which was an historical crossroads along the Silk Road that you visited before its fall after the collapse of the Mongol Empire.
You should also be proud that many travel-related businesses and shops have adopted your name. However, the most famous example is probably Marco Polo Airport in Venice. Well, I should mention that this modern port in your hometown is used for air travel instead of seafaring. For this, we have a Renaissance artist who was also your countrymate to thank. It was his imagination, which came up with a flying machine with flapping wings, that helped people fly! While it took you over three years to reach the Far East, it took me less than a day of travelling from my homeland to reach here. No one can tell what the future will bring to our world, but today humans can travel to the moon and explore the universe using flying telescopes. You may also be surprised to hear that in today's world people can even travel in virtual worlds, although, for me, having real contact with real people is still important. That's how epic stories are formed and the world's diverse cultures are truly experienced, right Master Polo?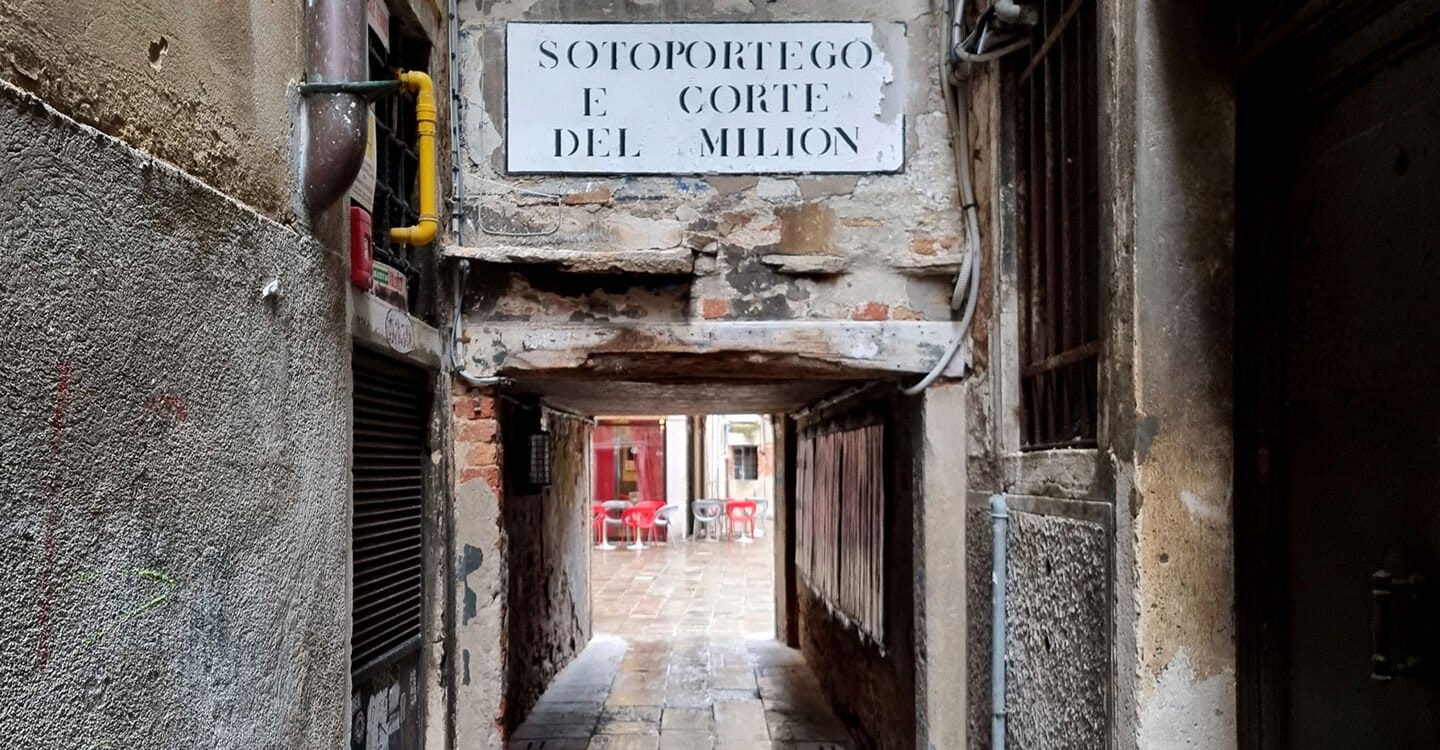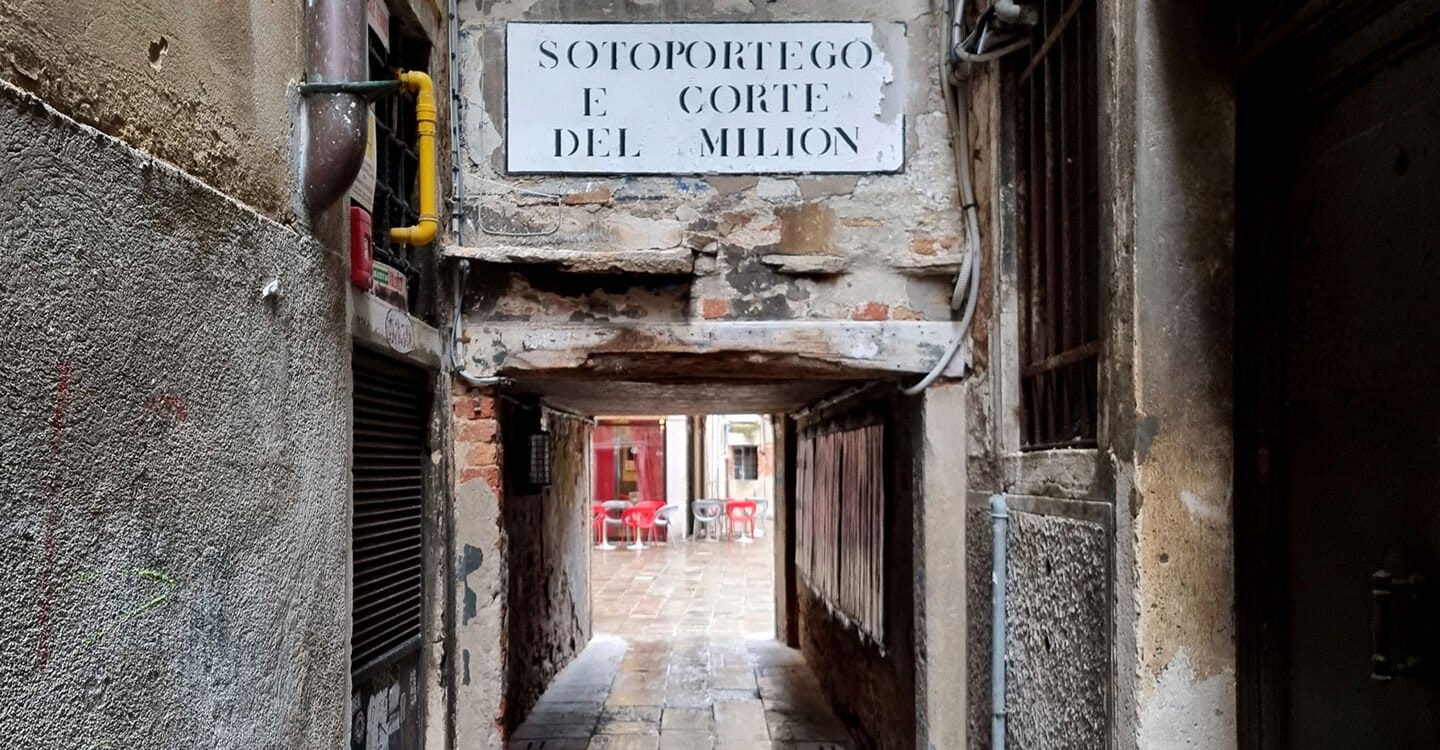 All routes lead to... Venezia
I mentioned earlier the word 'diaspora' when talking about my family roots. It means 'scattering' and originally referred to Jews exiled from Babylonia, but these days this term, which can trace its roots back to ancient Greek, is also applied to groups of migrants who have spread from their ancestral homelands along with their culture. While Venice is best known around the world for its precious and unique cultural heritage, earlier this year Venetians also celebrated 1,600 years of history as a welcoming city to migrants. After fleeing the mainland from the attacks of the Barbarians, nomads from coastal communities who would now be called refugees, built a group of floating islands in the middle of the Venetian Lagoon. Perhaps this is partly why one of the world's most famous and popular tourist destinations is still today made up of diverse diaspora communities.
During my journey to learn about the different ethnic groups that make up the Venetian community, I was taken to a less well-known island where an Orthodox Armenian church is located. After being home to a leper colony, the island was abandoned until the early 17th century, when it was given to an Armenian monk who had fled his Turkish persecutors. To this day it remains an important monastery, library and sanctuary of Armenian history and culture. Back on the main island, I was also shown the spot in the busy San Marco square where their former church was once located. There is also an alley named after the Armenians. All these remnants show that long before the arrival of their respected monk there was already an Armenian community in the Venetian Lagoon.
As Venice grew to be one of the largest cities in Europe and the capital of a great trading empire whose reach extended far into the eastern Mediterranean, there are certain parts with its long history that drew connections with the Ottoman Empire and Muslim civilisations from the Near East. I was introduced to an Iranian merchant who is the president of an association that promotes Persian culture here. He actually owns some businesses but the devoted love of his ancestral roots led him to be involved with several cultural activities from the Islamic world that are held in Italy. When I visited his carpet shop, he welcomed me with some traditional sweets from his homeland which, to me, tasted similar to Indian. He also served me an herbal tea made with saffron. As you may know, saffron originated in Iran and it has long been the world's costliest spice by weight. He told me that back in the old days, perhaps around your time, saffron was the treasure among some spices and exotic goods that the Iranian merchants brought here. It surprised me to learn that a suitcase full of saffron could be turned into a Palazzo on the Grand Canal! He also explained to me how those merchants brought their luxurious gifts to please the Venetian Doges and nobles. He showed me some evidence, a small Persian carpet in his collection that dated back to the 17th century. He did not reveal its value but said that it is the most expensive piece in his collection. Oh, I should mention that the other branch of his carpet shops is called Marco Polo. I wonder if you ever took any oriental carpet back home. If so, it would cost an absolute fortune to own it now!
Reflections on Life
Listening to oral histories of Venice, I became aware that the stories of early community settlements may be a sensitive topic. My main concern includes the name 'ghetto', which about 500 years ago was coined for a city square in Venice where the Jews were required to live and thus segregated from other people. The term was later used around the world to refer to crowded urban areas where members of a minority group live. Often these places have limited opportunities and are known for being impoverished. The term has been used to isolate, separate or 'ghettoize' particular areas or minorities and is today considered racist by many people, as it implies that members of a particular group are different from other parts of society.
Talking to a descendant of Venice's Jewish community made me recall how my mother did not talk about her own experience of emigration. Perhaps she did not want her children to know about or be disturbed by the horrors of past conflicts, but whatever her reasons, it was not until I became a father and my mother had already passed away that I began to search out her story. This process led me to create artworks depicting my family's life story alongside the wider history of all the different communities I had learnt about.
I also wanted to mention my brief visit to a Romanian cultural institution in Venice. I must admit that I was not familiar at all with their history and culture but my curiosity about this nation was aroused when I found out that the Romanians are the most populous migrants of the whole Italy these days. While I could meet only of a few of them, listening to a female Romanian artist who is presenting an exhibition there, it was clear to me that her art reflects on personal life experiences while helping us to identify with others and learn about our place in history. Sharing with the Director and going through a number of books he wrote about the ancestral homeland, along with his reflections on the world today, it made me think again about how art affects culture and our society. I wonder what the artist's role was back in your time and whether you ever imagined any form of art that might one day change the world?
Pandemic and a matter of survival
Venice's reputation a trading hub and site of great artistic and cultural importance is legendary, but less appreciated is the city's important role in fighting the most fatal illness in recorded human history. The Black Death, as it was called, was an infectious plague that killed one-third of the population in Europe back in the mid-14th century, about twenty or so years after you passed away. Long before the term 'pandemic' was coined for the rapid global spread of a sudden disease, some remote islands in the Venetian Lagoon were used for isolating and treating plague-stricken people. In those days, ships arriving in Venice from ports infected with plagues were required to sit at anchor for 40 days before landing. This practice became known as 'quarantine', which was derived from the Italian words quaranta giorni, which mean 40 days. As I mentioned, the beginning of my stay here was spent in quarantine, although I was lucky to be isolated for only 10 days!
I should also add that today it is not only Venetians who know about the mask culture. Over the past two years, since a new type of pandemic was introduced to our world, wearing masks has become a part of everybody's daily life. However, it is not for Carnival or any kind of celebration, as the face masks that people across the globe have to wear these days are designed to help us survive! Anyhow, we all hope that these unanticipated diseases will end soon so everyone can freely return to enjoying the absurdity of our lives in this beautiful world.
A brief trip to OK World and Navinland
At this point, let me introduce another term that is, today, arguably the most frequently spoken or written word on the planet. It is simply written as OK. Meaning 'adequate' or 'acceptable', in contrast to 'bad', OK has origins in the western world but for me personally it is part of my roots, as my family's fabric shop back in Thailand is called OK Store. Back when my great-grandfather and our ancestors migrated to Thailand, they could not speak the language of their new home. Their appearance was also very obviously different and unfamiliar to local people, so they looked for ways to integrate their own culture and lives into their new environment. One way they did this was through the names of their businesses. As most Punjabis were in the fabric trade, they tended to give their shops names that sound positive, auspicious or welcoming. OK was chosen to represent our brand. I am not sure how or why such a universal word was chosen for our shop, but because of it I grew up with a dad who was known locally as Mister OK.
Sadly, OK Store recently came to an end after the passing of my father. According to Indian tradition, one of the sons should take over the family business. But both my brother and I had chosen to do something else with our lives, and as things turned out, fate brought me to Japan, where I married a Japanese woman and our daughter was born and raised. However, despite the generational changes in my family, I have always believed that our heritage is important and that my ancestral roots should be preserved somehow. That's why several of my art activities have explored the definition of OK while at the same time reflecting my personal views of the communities I travel to. Here in Venice, I told several people I met about my 'OK World' but it seems they don't really get it. Nevertheless, I believe that enjoying an 'OK life' is important for all of us.
I would also like to share with you the story of Navinland, an imaginary place inspired by my name. In Sanskrit Navin means 'new', while in my homeland it implies a person who journeys by sea, a seafarer. The term navigator also shares the same root with Navin. Around a decade ago I decided to search out Navins from all walks of life, and even created an official Navinland declaration that we could sign. This happened right here at an historic exhibition of international art known as the Venice Biennale. The goal was to gain global recognition for our borderless community, our non-nation for a growing collective of Navins and friends known as Navizens.
I am pleased to report that on my latest journey to Venice I also encountered a new part of the Navin world when I met the Iranian merchant whom I mentioned earlier. While he was describing the long history of Persian culture and how his ancestors connected with Venetian life, he introduced me to 'Novin'. It is actually a brand of the saffron tea I drank, which probably derives from the owner's name. It is surprising that this Arab word also means 'new'. He even said that my roots might trace back to Parsi, an ethnoreligious group of the Indian subcontinent who originated from his homeland. I had never thought about this but his supposition goes to show that there is always something new to discover in Navin world!
And then, back to reality
The reason I am here is to take part in the 59th Venice Biennale, which was delayed by one year due to the pandemic outbreak. While I have been away from Navinland for some years and my original plans for OK World faded away, this particular moment in our world has led me to seek new ideas for my work through real-life experiences. Once again, it began with a journey. Today is the age of the so-called 'New Normal', a time when it is not as easy to travel the world as it was until very recently, so I am glad that my passport got a stamp after being unused for the last 20 months! I had a great time here learning about your hometown and meeting lots of Venetians. Certainly, I must have missed some parts of their history. But meeting the diverse communities here has encouraged me to think about myself and how I should respond through my artistic practice.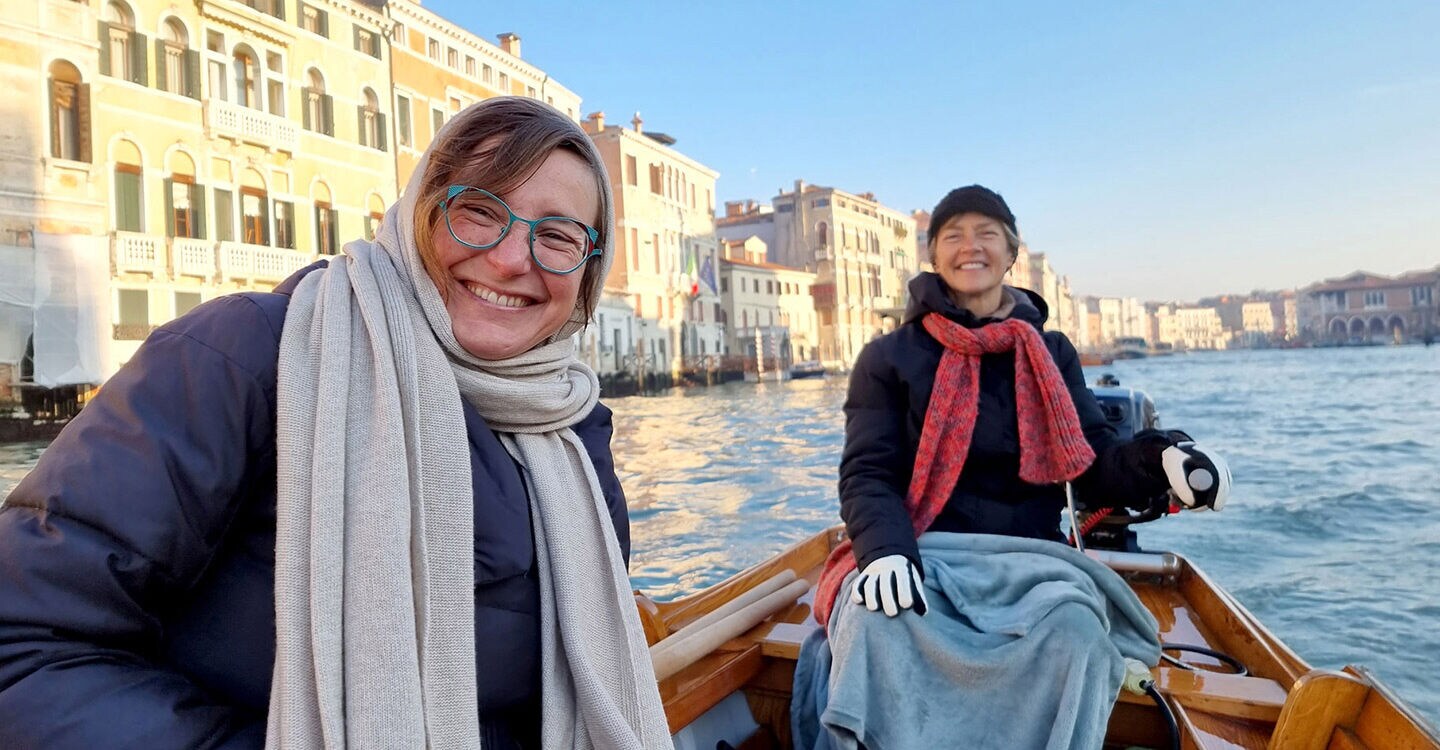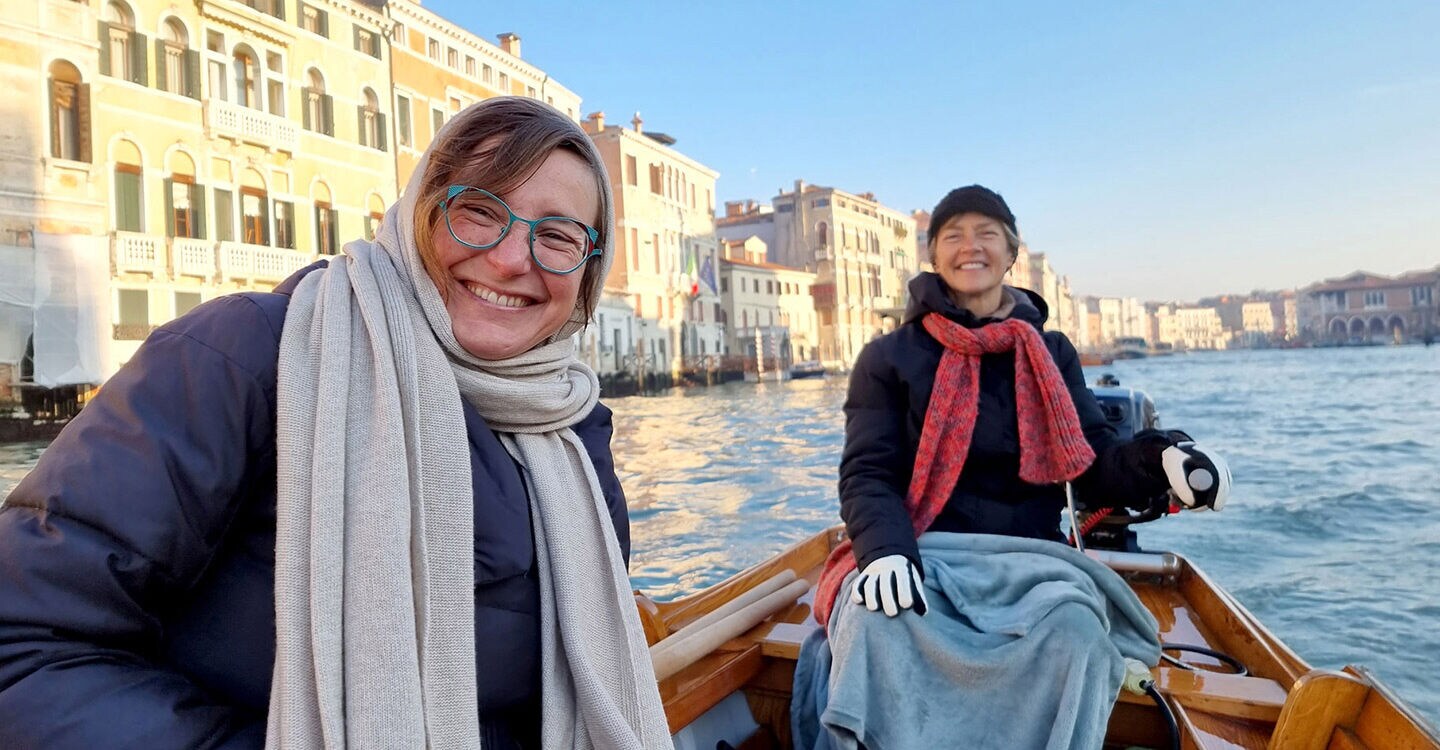 Farewell... and fond memories
My last day in Venice was quite special! A German lady whom I met at the winery lunch on the cemetery island took me out on the lagoon in her boat. It was a freezing afternoon but I really enjoyed sailing through the Grand Canal with her. While in conversation on the boat, along my Italian friend, I was impressed when she told me that her definition of home is a place where you can share your personal life with people wherever you live.
Then for my farewell party, the other one of the two retired teachers who cooked my first Venetian lunch invited some of her friends to her place. We communicated in different languages but it was wonderful hearing her story as she showed me lots of photos of her ancestors. There were also photos of her trips to my roots, both India and Thailand. Besides the 'film' that I mentioned at the beginning, now you may be wondering what a 'photo' is, right? I would say that both are used to record the reality we see. The photo was invented just before the introduction of film that can record moving images. Well, these tools are not just used for entertainment but also to help people recall memories.
My diorama and description of the world
Tomorrow I am going to return home but I look forward to being back here again in the Spring, when the next Venice Biennale will open. Regarding my work for this occasion, I plan to produce an outdoor stage with a large mural backdrop that draws upon my roots. Meanwhile, I would like to explore the boundaries of culture through something called a diorama, another ancient Greek term that refers to a type of picture-viewing device or a mobile theatre, which literally means 'through that which is seen'. Therefore, the diorama I am going to create will refer to what I have seen when visiting your hometown and my personal experiences connecting with all the stories told. Besides these layers of narratives, it is also my hope that this diorama stage built on the Giardini ground will be an open platform where people come to share their experiences.
While writing this letter, I have been thinking about what to call this work of art. With respect, may I borrow your book's title, The Description of the World for the work I am dreaming of? I must admit that my story is nothing compared to your great adventure; however, you inspired me to write everything down even though I still have some doubts about my attempt of this first contact. While this communication is a product of my imagination, my hope is that the narrative related from your hometown is a reflection of our times and the many and varied different lives in this ever-changing world. It is also my hope that what I am going to create out of this personal travelogue will connect my art with everyday people.
While lying on your deathbed, people tried to force you to admit that your book was full of lies, but instead you parted with the words, 'I have not told half of what I saw.' I think this is a great quote, as it emphasises the difference between our real experiences and the recollections that appear in any form of record. Along with this letter I am sending a selection of photos chosen from the several thousand that, along with extensive film footage, were made during my stay in Venice, so it shows much less than half of what I really saw, but one thing is certain: it captures another great moment in my life!
I sincerely hope you enjoy this storytelling from the future in my version of The Description of the World. Thanks a million, Mister Million!
Ciao,
Navin
December 17, 2021
Venice, Italy
Biennale Arte 2022: time to dream
Biennale Arte 2022: time to dream
The Biennale Arte 2022 returns to Venice for its magnificent 59th edition this year. Once again, we're in on the action as the main partner.
Discover the Biennale Arte