SWATCH SERVES UP BRIGHT SUMMER VIBES
The Swatch NEON Collection brings a refreshing twist on icons.
Just in time for summer, Swatch launches a new collection stacked with neon brights and playful details ready to add a fun pop of color to wrists. Early days Swatch icons CHRONO GRAND PRIX (SCJ101), TECHNO SPHERE (GK101), CHRONO WHITE HORSES (SCW100), and SKYCHART (GN705) inspire the new Swatch NEON Collection.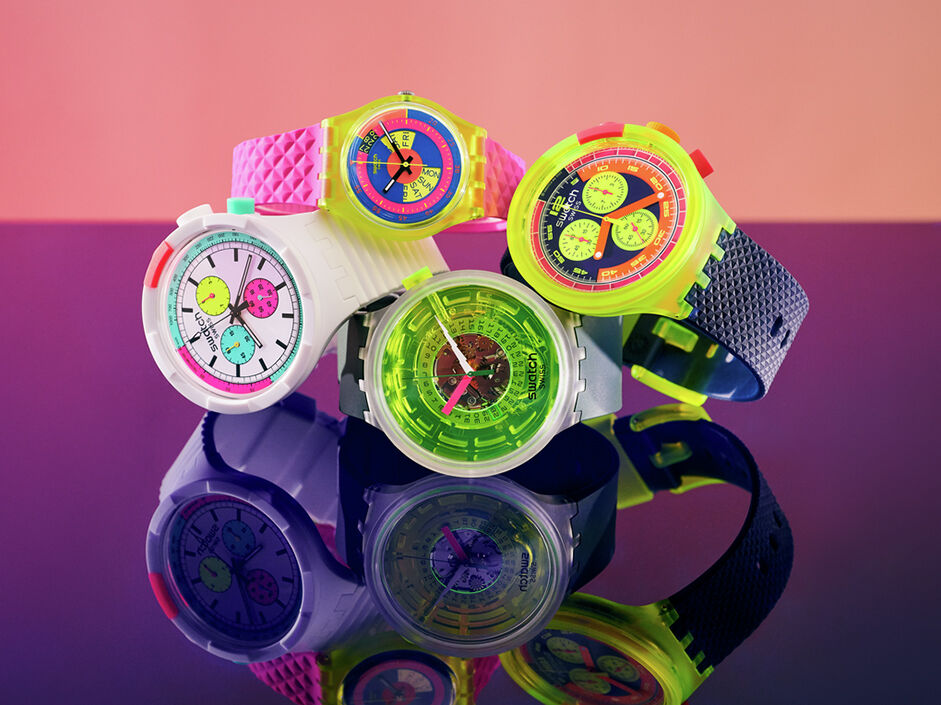 Four fresh Swatch NEON designs tap into future nostalgia by capturing the liberating provocation of the eighties and nineties eras while taking it to a whole new level with bigger sizes, biosourced materials, and vivid neon colors that exude an instant hit of feel-good energy. While long-time Swatch fans will undoubtedly appreciate the nods to the original designs, the collection also promises to appeal to a new generation of fashion-forward customers who crave the same joy and playfulness.
SWATCH NEON TO THE MAX is for those who want to turn up the color dial on self-expression. Swatch reinvents one of its ultimate icons CHRONO GRAND PRIX with a big and bright florescent update that is guaranteed to catch the eye and lift the mood.
The biosourced watch head, strap, and buckles on SWATCH NEON TO THE MAX are chunkier than the original design and Swatch fans in selected markets can opt for a SwatchPAY! model that makes paying the bill a simple flick of the wrist by using the same technology as a contactless payment card.
SWATCH BLINDED BY NEON takes the Swatch icon TECHNO SPHERE to the next level with an adventurous and a neon yellow twist.
The original design had no numbers, irregular hands and a transparent cut-out dial that gave fascinating view of the mechanism. SWATCH BLINDED BY NEON features a calendar wheel with a green square at 7 o'clock that displays the date. The cut-out dial is more intricate and finished with a luminescent effect and is surrounded by a chunkier bioscourced watch head, strap, and buckles.
SWATCH THE PURITY OF NEON brings the classic CHRONO WHITE HORSES watch right up to date with a bigger and bolder design, not to mention biosourced watch head. The pure white minimalist design provides the perfect contrast for blasts of neon blue, yellow and pink.
SWATCH SHADES OF NEON arrives in brighter-than-bright neon pink with pops of vibrant yellow and a biosourced case. It takes inspiration from the Swatch icon SKYCHART, complete with waffle structure, cut-out calendar wheels and all! The correct way to read the day and date is to focus on the orange section between 1 and 3 o'clock.
Swatch extends its love for strikingly bright colors through to the Swatch NEON Collection packaging. All four designs are available in Swatch stores and on Swatch.com from June 1, 2023.
Contacts:
SWATCH PR INTERNATIONAL
Samira Kaelin
E-mail: Samira.Kaelin@swatch.com
Telephone: +41 32 321 2394