SWATCH AND FLIK FLAK LAUNCH A MONSTER OF A DESIGN DUO!
SWATCH AND FLIK FLAK LAUNCH A MONSTER OF A DESIGN DUO!
BIEL, DECEMBER 2022

TIME TOGETHER inspired by Swatch Proteam Athlete Xavier De Le Rue and daughter Margot.
Download photo material
French big mountain snowboarder and Swatch Proteam athlete Xavier De Le Rue and his three-year-old daughter Margot have inspired the scarily cute TIME TOGETHER watch duo for big and little monsters on and off the slopes!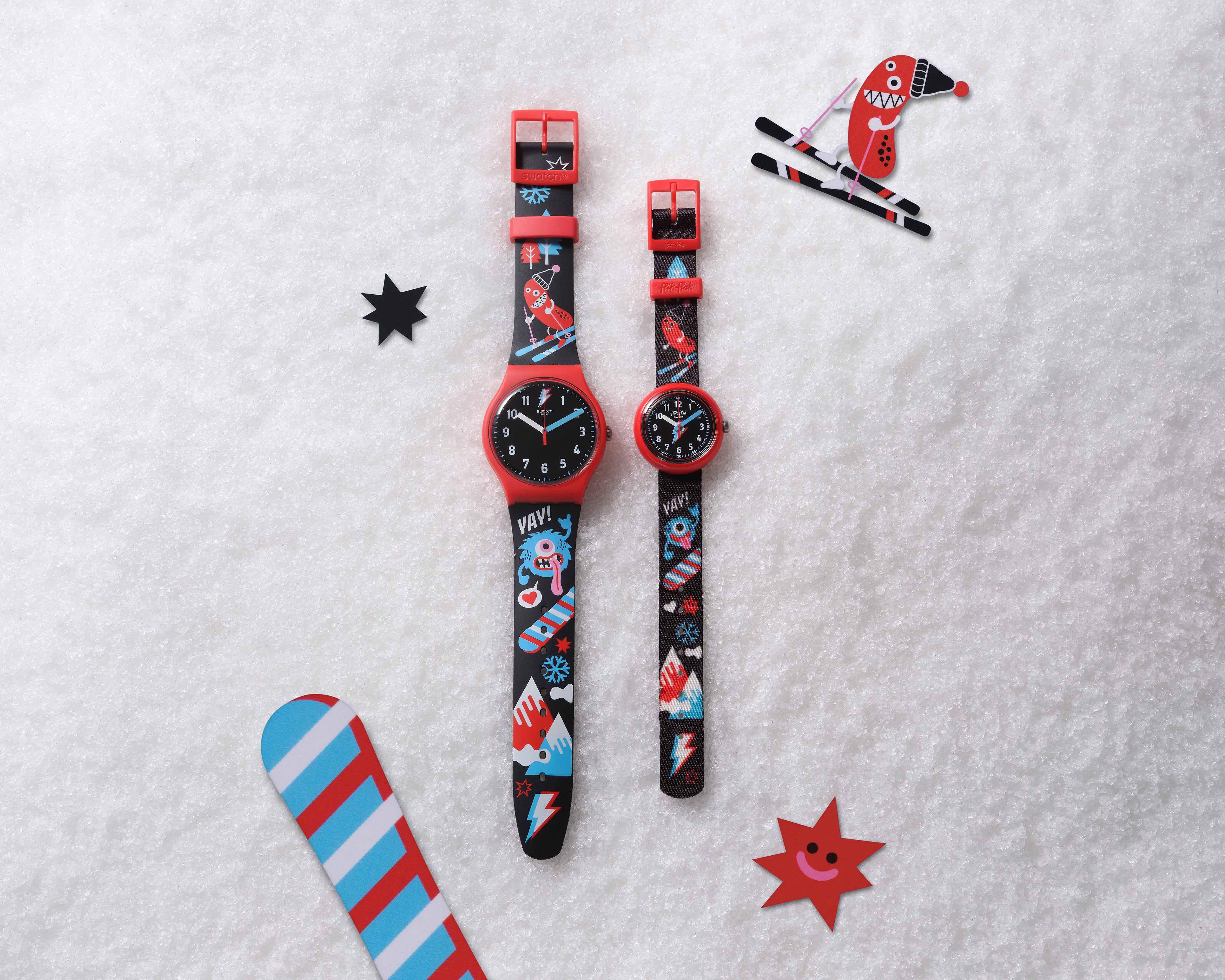 Swatch and Flik Flak wanted to make something that celebrates the magical bond between a parent and child - something kids and grown-ups could wear to look like their counterparts who inspire them. And, who better to collaborate with than Xavier and Margot, who, at three, is just learning to tell the time! The father and daughter duo made sure the watches celebrated everything they love by brainstorming what's meaningful for them. The list started with ice cream, sweets and jumps and ended with mountains, skiing, snowboarding, and monsters. Their shared love for the planet and being outdoors ensured the watches use biosourced materials and a recycled PET strap on the Flik Flak.
Channeling the playful and colorful vibes of both brands, the TIME TOGETHER watches feature scarily cute characters captured in action shots on the slopes in both grown-up and cute kids' profiles that look similar but have many fun differences when it comes to design. The watches will keep the kids and big kids connected, smiling, and on time all day long.
The snow monsters have more teeth and edge on the grown-up SLIDE MASTER design. The black strap and dial ensure the monsters, mountains, lightning strikes, and boards really pop on the wrist. The NEW GENT design uses biosourced material on the case, bracelet and buckle.
SLIDE MONSTER features happy monsters all over the vibrant watch. The FLIK FLAK POWER TIME helps young kids to tell the time with complete confidence, thanks to the color-coded design that intuitively helps them to differentiate between minutes and hours. What's more, the case and buckle are made from biosourced material and the strap from recycled PET bottles. The TIME TOGETHER watches come in a playful and vibrant packaging that details the little and large monsters whizzing down the slopes on boards and skis.