Land artist Saype explores the world of MoonSwatch
Saype is a self-taught artist renown for creating enormous ephemeral paintings on grass.
Drawing inspiration from the world of MoonSwatch and our long-standing love affair with art, Saype, travelled to the remote Kenyan desert, a two-day drive from Nairobi, to create two giant frescoes on the desert terrain.
The resulting artworks reinterpret the MoonSwatch universe and inspire us to dream big, to keep exploring the unknown and dare to experiment with fresh and unconventional ways of doing things.
His bright dream
Set in a lunar landscape, a boy gazes up at the night sky in awe of its vastness, as if he longs to explore what lies beyond Earth and outside the boundary of the universe. Equipped with a backpack and flashlight, he is ready to embark on an exploratory mission to unlock the mysteries of our universe.
Painting size: 120m long by 50m wide (6.000m2).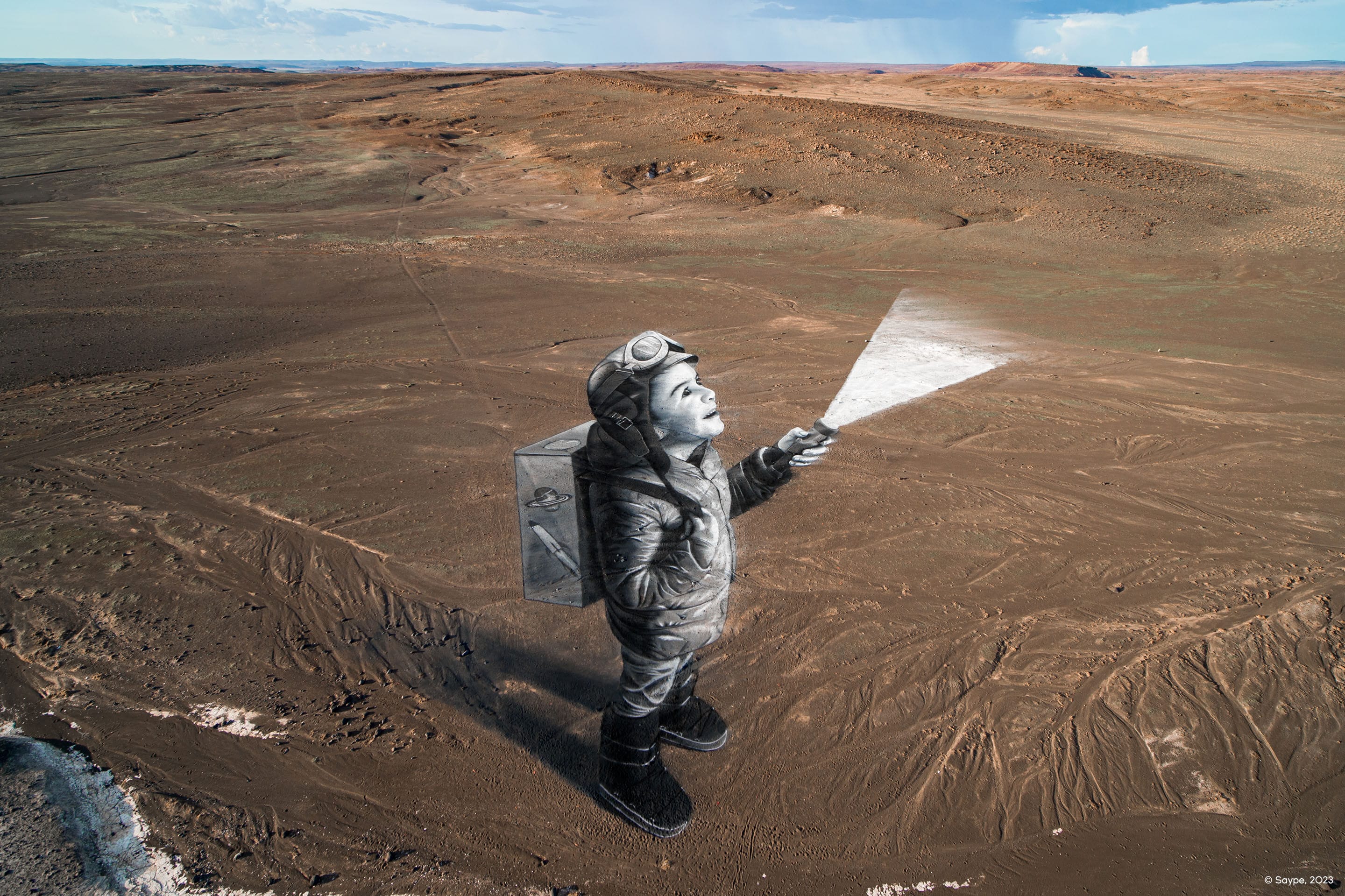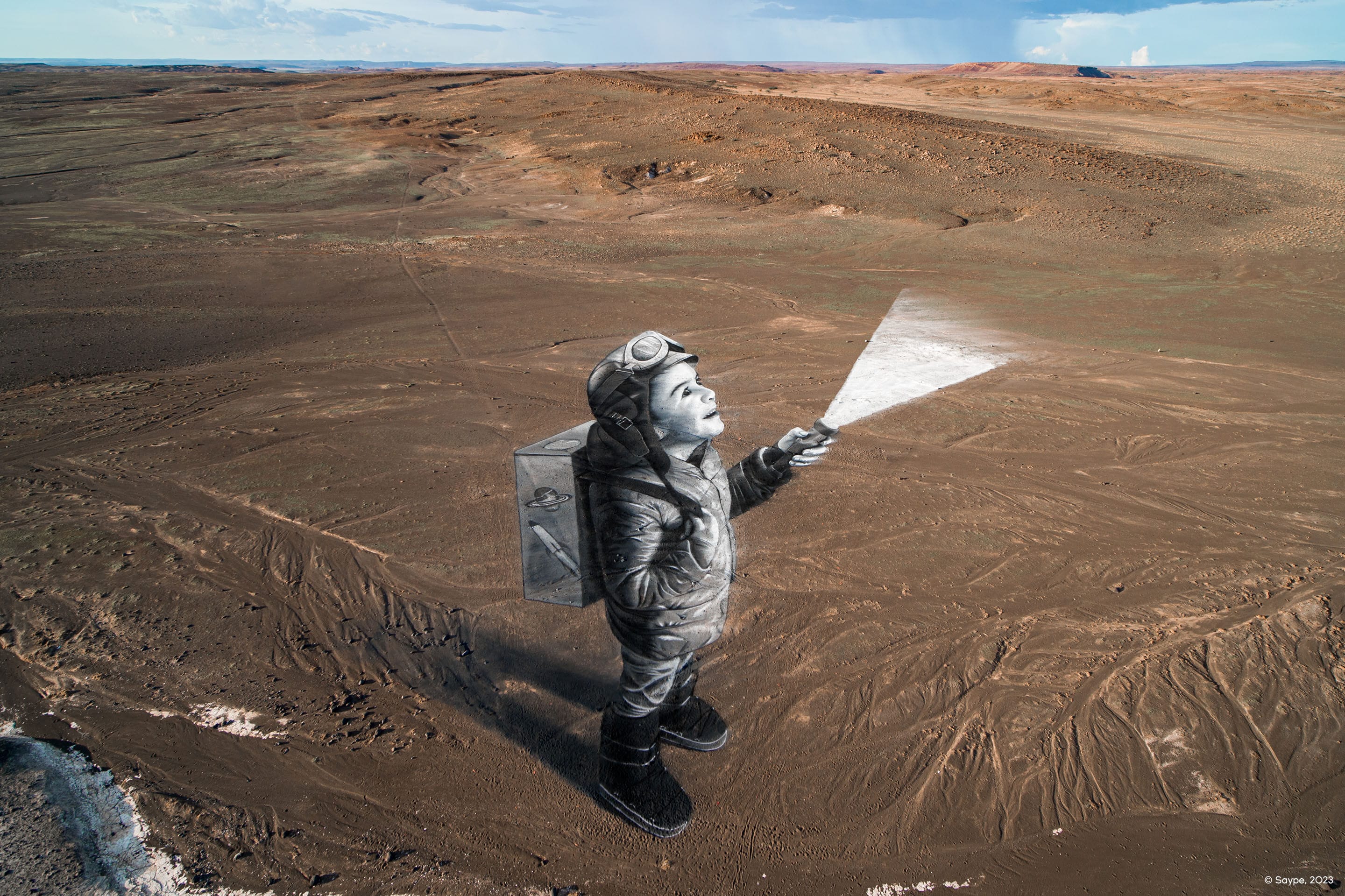 Her bold dream
On a barren desert canvas, a young girl draws planet Earth surrounded by stars and a spaceship. It's clear that she is knowledgeable of the solar system and space travel. Her focused gaze shows that she is set on discovering the world and everything beyond it. When observed from above, the light from the little boy's flashlight shines up at the girl as if the two children were facing each other.
Painting size: 120m wide by 60m long (7.200m2).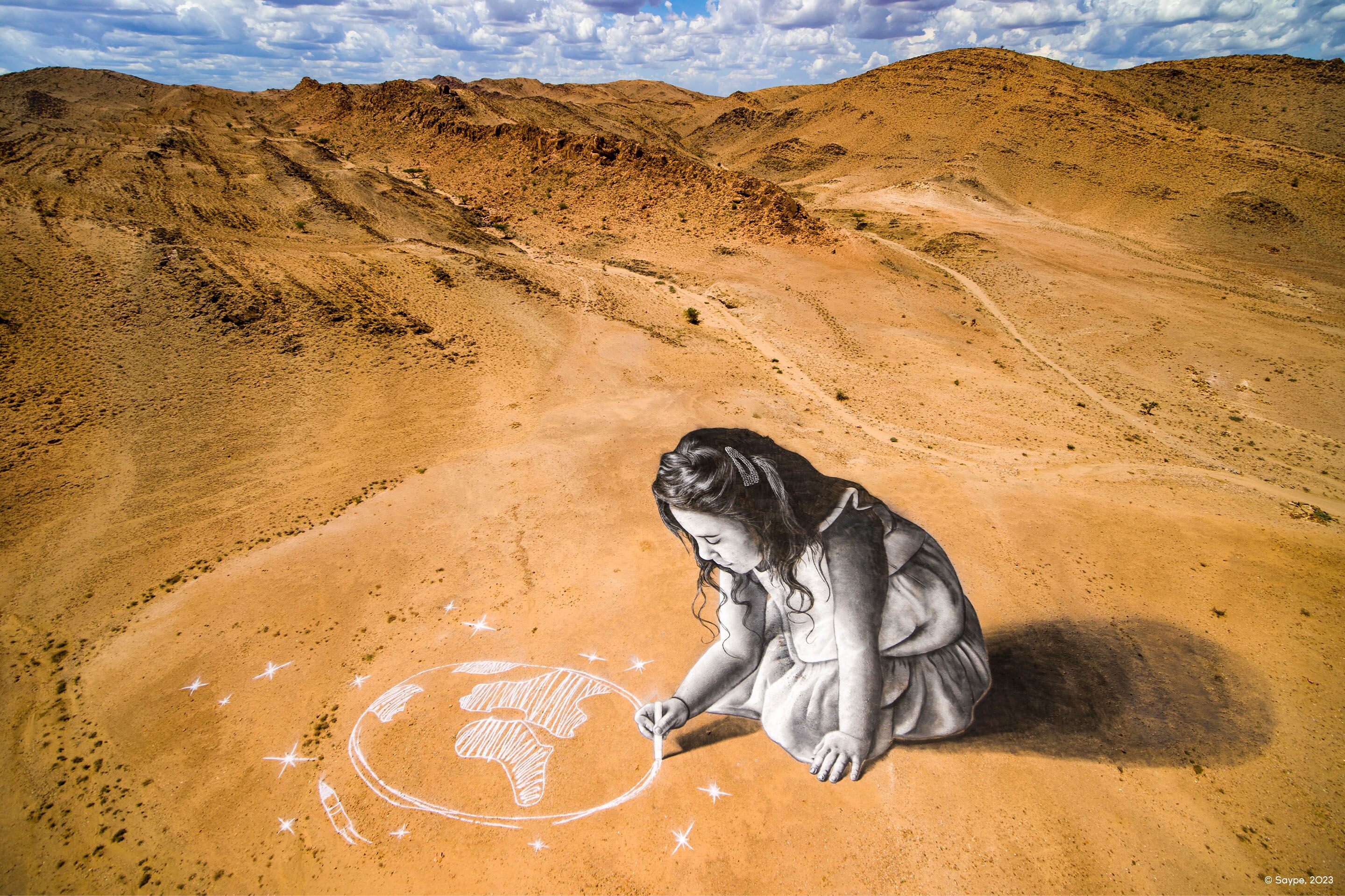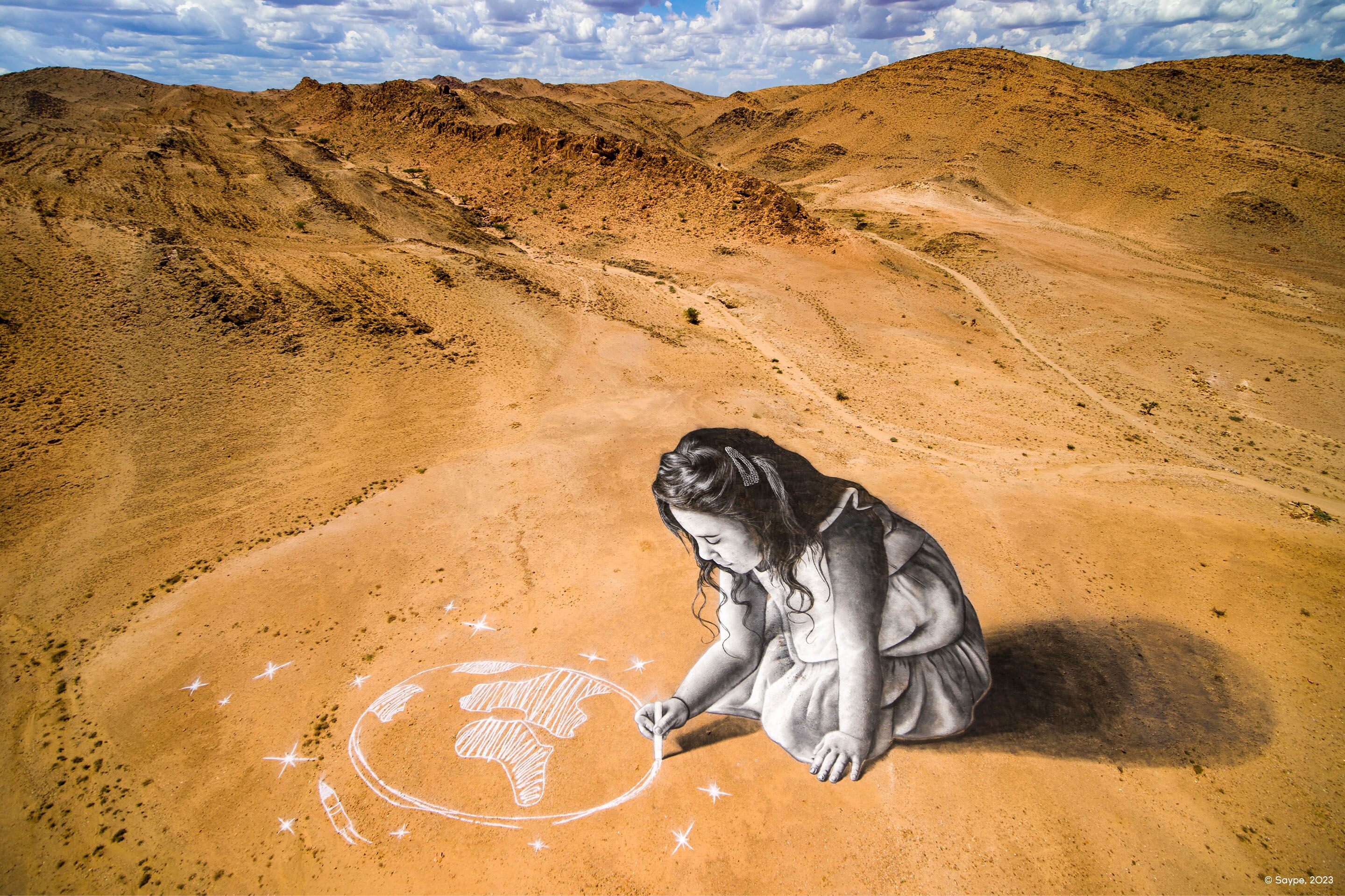 Saype shares the motivation
behind this work:


"From time immemorial around the world, humanity has contemplated the stars. In the evening, when we raise our eyes to the sky, we are all children in wonder.

This is what my two ephemeral frescoes tell us, they question our relationship with time and the traces we leave behind. It is in the middle of the lunar landscapes of Kenya that I chose to express myself, a place so surreal that it makes us lose our landmarks as humans.

As with the collaboration between Swatch and Omega, this is the story of a universal dream, to travel this universe that seems so close to us at nightfall, to fly to the stars, to play as if you were a child."


— Saype


Saype, pioneer of a new artistic approach
Self-taught, contemporary artist Saype is known for pioneering a type of land art which involves creating gigantic paintings on grass.
Through his art, Saype, who began his artistic career painting graffiti before switching to land art, aims to "impact people, without impacting nature". That is why for all his installations, he uses a special paint that he developed. This paint, along with the specially modified tools he uses and the process of creating these massive paintings were developed and refined over a lengthy 3-year period of trial and error.
Using mainly chalk and charcoal, he makes up to 5 different shades of gray to create each painting which eventually disappears as it is exposed to the elements.
In 2019, Forbes magazine ranked him among the 30 Under 30 in art and culture.
Go behind the scenes
Explore behind-the-scenes footage to get a glimpse of the creative process behind the making of Saype's giant MoonSwatch-inspired paintings.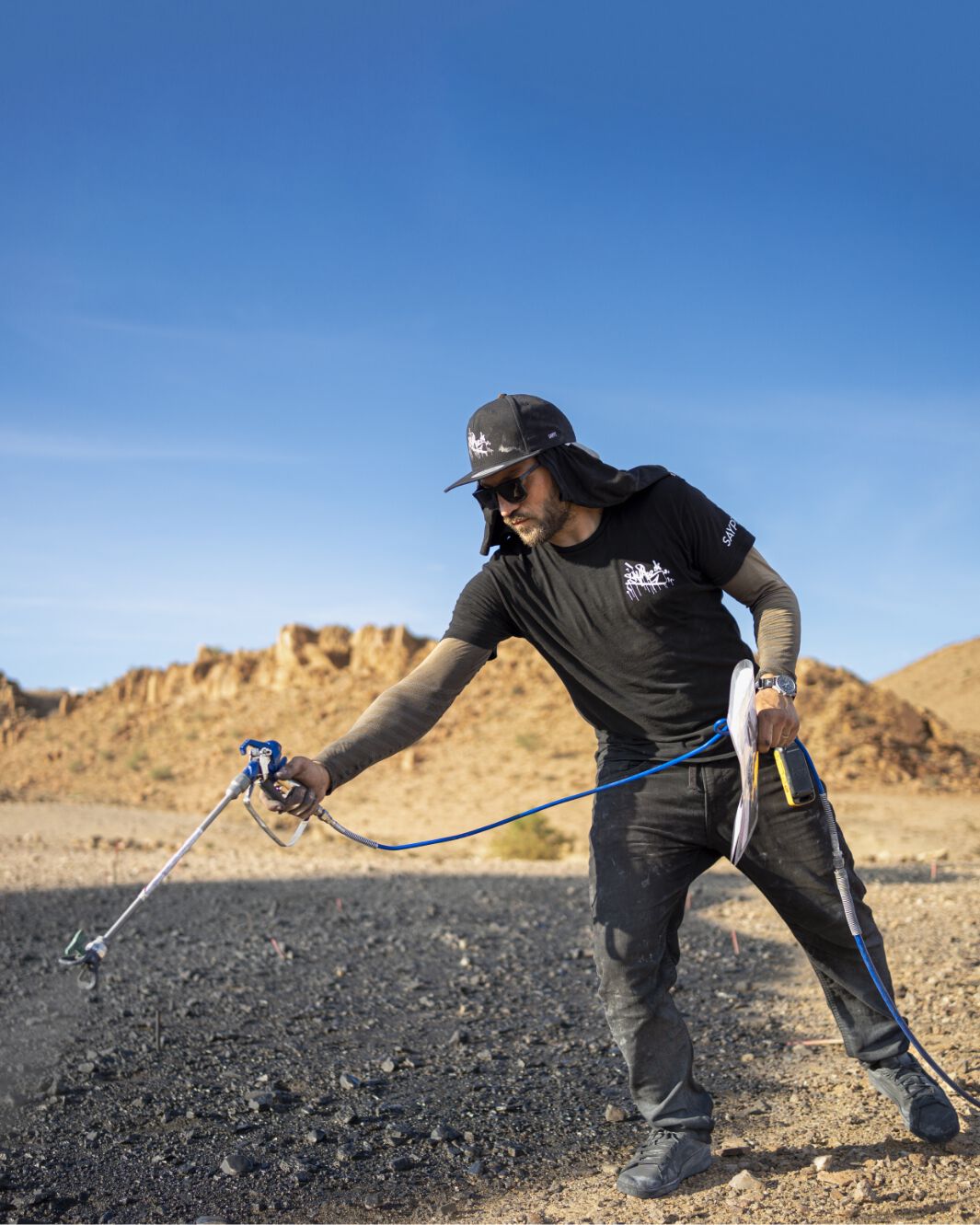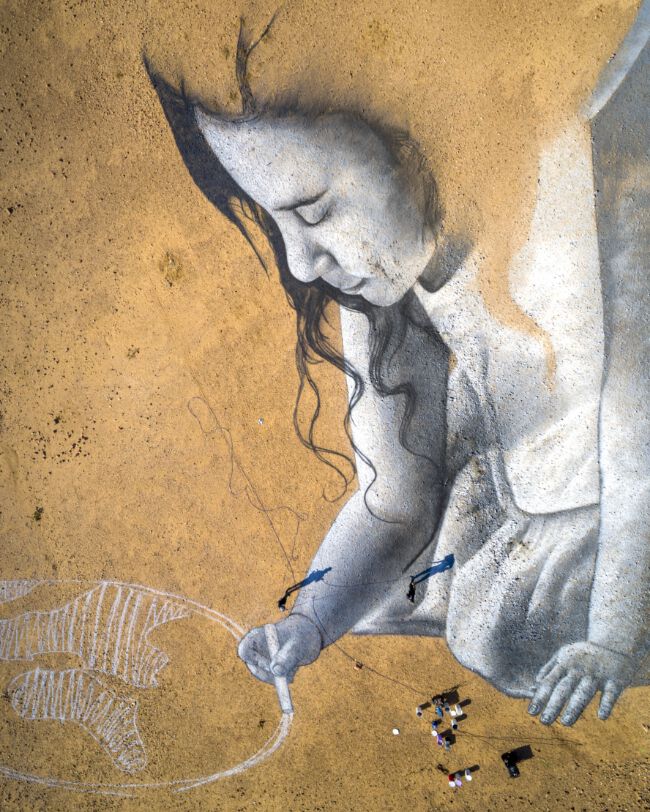 Bioceramic MoonSwatch
Launched in March 2022, the Bioceramic MoonSwatch Collection pays tribute to the first watch on the moon, the OMEGA Speedmaster Moonwatch. Each of the eleven models in the Bioceramic MoonSwatch Collection, references a different planet or celestial body within the solar system.