SWATCH GIVES MOTHER'S DAY AND FATHER'S DAY THE FLOWER TREATMENT
BIEL, March 2023
A bright bouquet of fun and floral watches with no dropped petals in sight!
Moms, dads, and parenting figures do so much for their families and deserve to be celebrated in an extraordinary way. That's why Swatch has taken the timeless beauty of flowers and turned them into joyful watches that are a welcome change and last a lot longer than fresh blooms!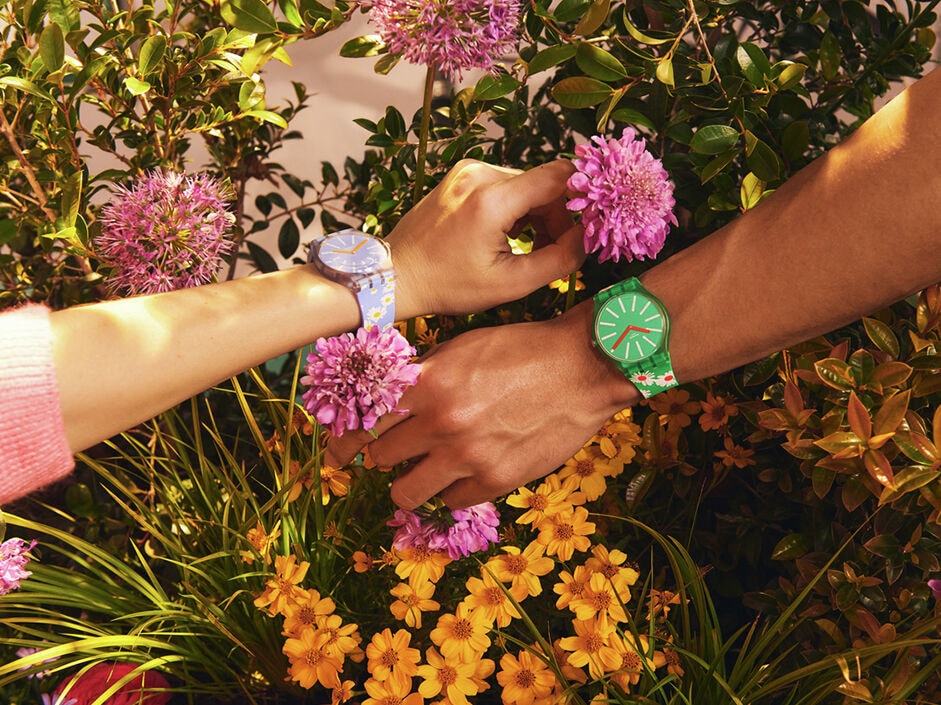 Flowers are a time-defying symbol that inspires everything and is found everywhere¾song lyrics, books, fashion, art and are the go-to gift for occasions such as Mother's Day and Father's Day. Swatch launched its first Mother's Day Special in 1998 and has been creating playful designs to mark the occasion ever since. To give the gift of time to the people who need it the most, Swatch has created a bouquet of bright pop-arty watches that are bursting with floral patterns, not to mention two BIG BOLD with a fresh urban twist on leafy camouflage.
Seven spring watches take inspiration from nature to create something a little out of the ordinary.
ESSENCE OF FLOWER AND FLOWERZ GENT BIOSOURCED
Swatch goes into full flower mode with bright blooms on ESSENCE OF FLOWER and arty hand-painted blossoms that pop on FLOWERZ, both made with biosourced materials.
DAZED BY DAISIES AND MEADOW FLOWERS NEW GENT BIOSOURCED
Daisies are sometimes given to new moms as a symbol of motherhood and new beginnings. Playful daisy prints and pops of joyful blue and green color adorn the designs made of biosourced materials.
CAMOFLOWER COTON AND CAMOFLOWER GREEN BIG BOLD
BIG BOLD is an oversized watch that makes a statement. For the first time, the urban aesthetic receives an unexpected floral flourish with 'camoflowers' running the strap length in deep greens and terracotta tones, also coloring the signature inner movement.
Completing the Collection are two playfully ironic homages to mom and dad stereotypes. These Swatch Specials put their humorous spin on the 'Mommypedia' and 'Daddypedia' concepts and feature go-to phrases most people swore they'd never say… until they became a parent!
ALL ABOUT MOM GENT
It's all about mom and her go-to phrases with this Swatch. "I told you so!" text runs along the red strap, the hands glow in the dark, and the calendar wheel has different colored hearts that change daily between midnight and 2 am.
ALL ABOUT DAD NEW GENT
"Go Ask Your Mom" is the cheeky text on the strap, perfect for experienced or brand-new father figures. The blue NEW GENT features glow-in-the-dark hands, and just like the ALL ABOUT MOM Special has a calendar wheel with different colored hearts that change daily between midnight and 2am.
THE SWATCH FLORAL-INSPIRED WATCHES WILL BE AVAILABLE IN SWATCH STORES AND ON SWATCH.COM FROM MARCH 2, 2023.
THERE IS ALSO TALK OF A SWATCH X YOU DIGITAL DESIGN FOR MOTHER'S DAY AND FATHER'S DAY, MORE DETAILS TO FOLLOW THIS SPRING.
THE SWATCH MOTHER'S DAY AND FATHER'S DAY SPECIALS WILL BE AVAILABLE IN SWATCH STORES AND ON SWATCH.COM STARTING FROM MARCH 2023.